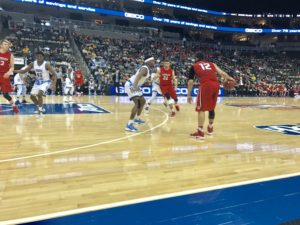 By PAUL GOTHAM
PITTSBURGH, PA — E.C. Matthews connected on all four of his attempts behind the arc, and the Rhode Island Rams took a 46-34 lead over the Davidson Wildcats into halftime of the Atlantic 10 semifinals at PPG Paints Arena, Saturday.
Matthews drilled his first trey of the half from the left corner to spark a 13-2 URI run. Teammate Jared Terrell followed with another triple, and Nicola Akele made it a 33-19 game with another URI 3-ball.
The Rams came into the game shooting 32.6 percent from behind the arc. They hit 9 of 12 in the first half of the A-10 semifinal.
Matthews matched a career-high with six threes earlier this season against Oklahoma. The junior guard leads all scorers at the break with 14 points.
URI's Jeff Dowtin had four assists in the first-half.
Rhode Island held Davidson's leading scorer, Jack Gibbs, to six points on two of six shooting from the floor.
The winner will face the winner of the Richmond-VCU game in tomorrow's championship.
Rhode Island last reached the A-1o championship game when they lost to George Washington. Davidson, in just its third year in the A-10, has not yet reached the final.