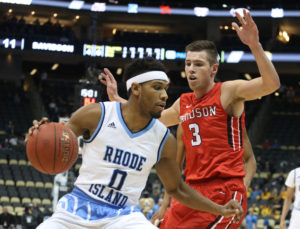 By PAUL GOTHAM
PITTSBURGH, PA —  E.C. Matthews led three in double figures, and the Rhode Island Rams advanced to the Atlantic 10 championship game with an 84-60 victory over the Davidson Wildcats at PPG Paints Arena, Saturday.
Matthews connected on all four of his three-point attempts in the first half and paced a Rhode Island long-range attack which hit 12 of 19 from long range for the game.
Matthews drilled his first trey of the half from the left corner to spark a 13-2 first-half URI run. Teammate Jared Terrell followed with another triple, and Nicola Akele made it a 33-19 game with another URI 3-ball.
"You see the first one go down, and that's all we really need," Matthews said.  "You know, we work on our shot a lot in the off-season, and Coach gives us confidence to shoot good threes. So once we see one going down, that gives us more motivation to make more."
Davidson did not get the score within 10 for the remainder of the contest.
Six different Rams connected from long range with Kuran Iverson, Stanford Robinson and Jared Terrell all hitting two apiece.
"We were more comfortable shooting today than we were yesterday from the perimeter, and this is kind of who we've been," Rhode Island coach Dan Hurley stated.  "I think we went into the year thinking we'd be a better shooting team than we were over the course of the year. But what's happened to us in games this year is we've had games like this where we've been on fire, and then we've had some games where we haven't been able to throw it in the ocean and then our defense has carried us.If we just shoot it pretty good, we're very hard to beat because of our defense."
Rhode Island held Davidson, which came into the game shooting 43.9 percent from the floor, to 19 of 48 (39.6 percent) shooting including 6 of 20 (30 percent) in the second half.
"I've said this for awhile now, for the last several weeks, last ten, 12, 13 games, this is who we are when we're healthy," Hurley stated. "We're that type of defensive team. We have the ability to be that explosive on offense."
One day after scoring 34 points in Davidson's win over top-seeded Dayton, Jack Gibbs was limited to 17.
"Obviously there was a lot of attention to him," Hurley said. "In ball screens we were really blitzing him. We were willing to give him shots at the rim today."
The senior guard connected on four of 12 shots from the floor and did not hit any of his four attempts from long range.
"We really just wanted to try to funnel him to the rim, because we knew he probably didn't have the same pop in his legs that he's had for the last two games here," Hurley added. "So we just wanted to chase him off the three-point line.
Gibbs finished with two assists and four turnovers.
"They had a great game plan, and they hit us early," Gibbs said. "We fought back, but they are a good team and wish them the best of luck tomorrow."
Peyton Aldridge hit a baseline jump hook to cut Rhode Island's margin to 10 at 53-43, but the Rams responded with seven straight. Hassan Martin answered with back-to-back dunks. Terrell scored on a leak out and finished with an and-one for a 60-43 URI advantage.
"They knocked us to the mat very early," Davidson catch Bob McKillop said. "They played a terrific basketball game. Even though we got knocked to the mat, our guys didn't stay down. We got knocked to the ropes. We didn't stay on the ropes. We kept coming back and kept fighting and fighting."
Matthews led all scorers with 19. Martin added 16, and Iverson 12. Freshman Jeff Dowtin handed out six assists. Nicola Akele had four assists.
Rhode Island converted 12 Davidson turnovers into an 18-10 advantage in points off turnovers.
Aldridge finished with a 13 points and a game-high 10 rebounds.
The 24-point margin of victory was the largest in an Atlantic 10 semifinal since 1993.
Rhode Island returns to the A-10 championship game for the first time since 2007. The Rams last won the A-10 in 1999.
Rhode Island trailed for :24 seconds on Saturday and a combined :43 for their first two tournament games.
Rhode Island defeated Davidson twice during the second half.
Rhode Island will play VCU in Sunday's championship game. A 12:30 pm tipoff is scheduled. CBS will televise the game.