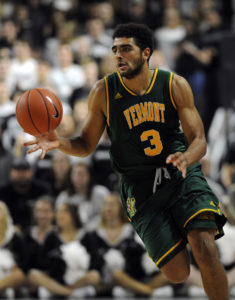 With post-season tournaments getting into full gear conferences began handing out awards, and Section Five is getting its share. Dontay Caruthers (Buffalo/East High), Anthony Lamb (Vermont/Greece Athena) and Quinton Rose (Temple/Bishop Kearney) all earned conference honors and then some.
America East Conference named Lamb its Rookie of the Year. A unanimous selection, Lamb earned a Vermont Catamounts program record seven Rookie of the  Week nods. Lamb led Vermont to a 16-0 mark in league play scoring 12.6 points per game. He grabbed 5.2 rebounds and blocked 1.2 shots.
The 6-foot-6 forward has two double-doubles and has scored in double figures in each of Vermont's last seven games and 10 of 11. Lamb netted 20 in Vermont's victory over New Hampshire to advance to the America East Championship. USBWA also named Lamb first-team All-District I. Vermont hosts Albany on Saturday. The winner gets a spot in the NCAA Tournament. An 11 am tipoff is scheduled. ESPN2 will televise the game.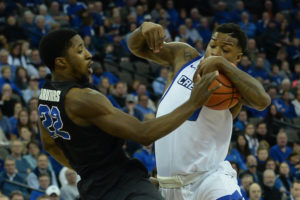 Caruthers garnered Mid-American Conference Defensive Player of the Year. With a steal percentage of 5.0, Caruthers ranks eighth in the nation per KenPom. He led the MAC with 1.9 thefts per contest. Playing 22 minutes, Caruthers scores 5.1 points, grabs 2.2 rebounds and hands out 2.2 assists. In late January, Caruthers registered back-to-back five steal performances in UB's wins over Kent State and Western Michigan. UB, looking for its third straight trip to the NCAA Tournament, opens the MAC Championship against Kent State on Thursday. The game can be seen on ESPN3.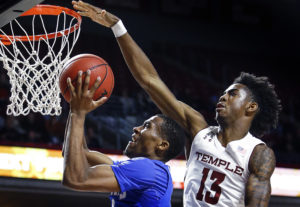 Rose earned a spot on the American Athletic Conference All-Rookie team.  A four-time Rookie of the Week selection, Rose averages 10 points and is fifth in the AAC with 1.5 steals per game. He grabs 3.9 rebounds and hands out 1.9 assists. He has scored in double figures in seven of Temple's last 10 games. Temple takes on East Carolina Thursday in the first round of the AAC tournament. ESPNU will televise the 3:30 pm start. AAC will announce its Rookie of the Year on Thursday.
Deyshonee Much (Gates-Chili) and the Iona Gaels clinched back-to-back NCAA tournament bids with an 87-86 victory over Siena in the MAAC Championship. Much scored 18 to go with six rebounds, four assists and four steals in the win.
Antwoine Anderson (Bishop Kearney) and Fordham will open the Atlantic 10 tournament against George Mason Thursday night. The 6:30 pm start will be televised on NBCSN.
Thomas Bryant (Bishop Kearney) and Indiana will take on Iowa to open the Big Ten tournament. ESPN2 will televise the 6:30 pm start on Thursday.
Emmitt Holt (Webster-Schroeder) and Providence open the Big East tournament against Creighton. FS1 will televise the 9:30 pm start on Thursday. Holt scores 12.3 per game and grabs 5.2 rebounds.
Canisius announced today the Golden Griffins will participate in the 2017 CIT. The Griffs lost to Saint Peter's in the MAAC Championship. Phil Valenti (Aquinas) leads Canisius with 5.8 rebounds and scores 13.9 per game.