---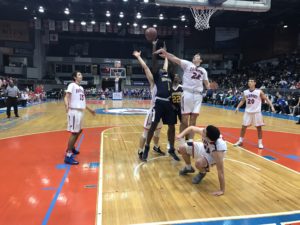 By PAUL GOTHAM
ROCHESTER, N.Y. — In the end it came down to a pair of stops. The senior-laden Fairport Red Raiders, without virtue of a timeout to get set, foiled the UPrep Griffins and held on for a 56-53 victory in the 2017 Section Five Class AA Championship.
Tournament MVP Dan Masino scored nine of his 13 points in the second half as the Red Raiders avenged three years of frustration to claim the school's first boys basketball title since 2007.
"Experience and trusting each other," Masino said when asked about the factors that led to the win. "I knew that that if it came down to a final play that we'd be in the right position, and we would put ourselves in a position to win."
Trailing by one with less than a minute remaining, UPrep forced a turnover and had a chance to take the lead but a shot with :11 seconds on the clock found back iron.
"If they hit an unbelievable shot, then that happened," Masino added. "We put down good defense and we got the rebound."
A pair of Stephen Gabel free throws extended the Fairport lead to three, but the Griffins could not get their final opportunity to fall.
"Experience won us the game, no question," Fairport head coach Scott Fitch said. "If you looked out there we didn't lose our heads. Guys still played their roles. We forced them into two really deep threes which you got to take your chance with. That was probably the difference: the experience versus the youth."
In a game where no team led by more than six points, Fairport grabbed the lead at the end of the third and never surrendered it. Masino connected on his second of three 3-pointers to close the third quarter with a  41-40 Fairport edge. This after the senior guard was held without an attempt from long range throughout the first half.
"They really ran us off the three-point line especially me in particular," Masino explained. "I just felt like I was getting any space. I gotta give props to UPrep. They played a really aggressive style of defense."
UPrep, which limited McQuaid in the semi-final to one first half 3-pointer on 13 attempts,  held Fairport to just three attempts from long range in the first half.
"They were aggressive and fast and strong," Fitch said of UPrep. "I didn't think we moved the ball well. We only had one assist in the first half. That's really uncharacteristic for us. That means we were pounding the ball too much, and we weren't moving it. We talked about it at halftime."
Trailing by six midway through the third quarter, Fairport's Cam Keeley connected from behind the arc. The senior forward followed with a reverse layup, and Masino's first triple of the night knotted the score at 34.
"We came out and moved it," Fitch said.  "We got in a little run there where we hit two or three threes. I thought that was the spurt that gave us a win."
Masino gave Fairport its largest lead of the half when he took a Gable feed and finished from long range.
"He drove in, jump stopped and my man helped," Masino explained. "He gave me a perfect pass right in my shot pocket. I trusted my reps, and it went down. It was a great pass from Steve."
Fairport led 46-42.
After coming away without a win in the past three finals, the Red Raiders won the school's fifth sectional title.
"We've been so close for three years, and the kids have had the heartbreak," Fitch stated. "I know what UPrep is going through. For them to get the experience of winning one, I'm just happy for them. So happy for the kids. It's awesome."
James Barnes hit five of seven shots and scored 11 points in the first half to pace UPrep to a 26-24 lead going into the locker room.
The Griffins pushed the lead to six less than three minutes into the third quarter when Jeenathan Williams went the length of the floor for a layup. After an and-one, UPrep led 32-26.
"They're going to be really good for a while" Fitch said of UPrep. "I think we're probably lucky that we got them right now because they're going to be good for a long time."
Fairport senior forward, Ryan Algier connected on five of six free throws and scored nine of his game-high 15 points in the first half.
"I had a smaller guy on me sometimes," Algier noted. "We thought I could take it to him. We knew that they were going to jump for ball fakes, so we tried to get that and get to the free throw line to get some easy ones."
Alger finished with a game-high nine rebounds, and Fairport had 26-20 advantage on the boards.
UPrep outscored Fairport in the paint (24-22), off turnovers (14-13) and on second-chance points (12-11).
The Red Raiders had a 10-5 advantage at the free throw line.
Gabel scored 13, and Keeley added 10 for Fairport.
Williams led UPrep with 13 and handed out a game-high five assists. Elroy Clark had 12. Barnes chipped in 11, and Jabez Thomas had 10.
Algier and Keeley joined Masino on the All-Tournament team. Thomas and Williams represented UPrep. Bishop Kearney's Nahziah Carter and McQuaid's Isaiah Stewart rounded out the team.
Fairport advance to the Far West Regional where they will face Niagara Falls of Section VI. The game is scheduled for Saturday at Rush-Henrietta High School.
FAIRPORT 56, UPREP 53
UPREP (18-5)
Jeenathan Williams 5-10 2-3 13; Elroy Clark 4-6 0-0 12; James Barnes 5-9 0-0
11; Jabez Thomas 5-6 0-2 10; Derek Minigan 1-2 2-3 4; Jakhi Lucas 1-2 0-0 2;
Tamar Jackson 0-4 1-2 1; Joe McGrady 0-0 0-0 0; Kassius Williams 0-1 0-0 0;
J.J. Strothers 0-0 0-0 0. Totals 21-40 5-10 53.
FAIRPORT (21-1)
Ryan Algier 5-12 5-6 15; Stephen Gabel 4-5 4-4 13; Dan Masino 5-12 0-2 13;
Cam Keeley 4-5 0-0 10; Matt Muncey 2-4 1-2 5; Jordan Holmes 0-3 0-0 0; TJ
Hendricks 0-2 0-0 0. Totals 20-43 10-14 56.
UPrep……………………. 7 19 14 13 – 53
Fairport…………………. 8 16 17 15 – 56
3-point goals–UPrep 6-14 (Elroy Clark 4-6; James Barnes 1-3; Jeenathan
Williams 1-3; Jakhi Lucas 0-1; Derek Minigan 0-1), Fairport 6-14 (Dan Masino
3-5; Cam Keeley 2-3; Stephen Gabel 1-1; TJ Hendricks 0-1; Jordan Holmes 0-2;
Matt Muncey 0-2). Fouled out–UPrep-None, Fairport-None. Rebounds–UPrep 20
(Jabez Thomas 8), Fairport 26 (Ryan Algier 9). Assists–UPrep 10 (Jeenathan
Williams 5), Fairport 10 (Dan Masino 3). Total fouls–UPrep 18, Fairport 12.
Technical fouls–UPrep-None, Fairport-None. A-4000
First title since 2007 for Fairport.