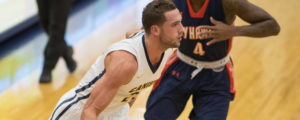 Courtesy of GoGriffs.com
Canisius tied a Koessler Athletic Center record with 16 3-point field goals, six players registered double-figures in the scoring column and the Golden Griffins held Iona without a field goal in the game's final 5:32 en route to an 89-83 victory over the Gaels Tuesday night. The win snapped the Griffs' four-game losing streak to the Gaels and improved the team to 16-11 overall and 9-7 in MAAC play, while Iona fell to 17-10 overall and 10-6 in league action with the loss.
The 16 makes from 3-point land on Tuesday night marks the third time in the building's history where a team has hit 16 treys in a game. Canisius set the original record Jan. 10, 2001 against Siena, and Saint Peter's had 16 makes from behind the arc against Canisius Feb. 19, 2004. The 16 triples matches a season high for Canisius, which also made 16 3-pointers in a road loss to Monmouth back on Dec. 4.
Senior forward Phil Valenti scored a game-high 18 points in the win for the Griffs, who shot 47.5 percent from the field, 57.1 percent from long-range and 78.9 percent from the free-throw line in the victory. Junior Jermaine Crumpton was good for 17 points and a team-high eight rebounds, while senior Kiefer Douse tallied 16 points and junior Kassius Robertson scored 11 points. Senior Martin Dixon-Green and sophomore Chris Atkinson added 10 points each off the bench for the Griffs, with the 10 points standing as a career-high for Dixon-Green and a season-high for Atkinson.
Canisius led 80-78 with 5:41 left to play after Valenti scored a lay-up, but the Gaels knotted the game just nine seconds later on lay-up at the other end of the floor by senior forward Jordan Washington. That bucket by Washington, two of his team-leading 15 points on the night, would end up being the final field goal make of the evening for the visiting team. With the game knotted at 83-83, Crumpton drilled a 3-pointer in the corner off a pass from Atkinson that gave Canisius the lead for good at 86-83 with just 1:19 left to play. The teams combined for back-to-back empty possessions before Canisius was able to get a steal with 14.9 seconds left to play. Iona was forced to foul Robertson, who made both free-throws to give Canisius an 88-83.
Iona had five players scored in double-figures, led by Washington and Jon Severe, who each had 15 points. Washington also grabbed 10 rebounds for Iona, which ended the game shooting 50 percent from the field, 36 percent from 3-point land and 82.4 percent from the charity stripe.
Head Coach Reggie Witherspoon's Postgame Comments
"I thought that our guys gave a great, collective team effort. I thought the energy our guys brought off the bench was great. I thought we were able to battle through [Iona] because they're a good team, too. And I thought we recovered from our mistakes very well, and that was probably the key to the game."
"We had a long team meeting and we talked about the need for [changing up the bench rotation]. I listened to our players and watched them practice, I think they all responded to each other very, very well. I wanted to give everyone a chance to feel like that had the ability to make a difference. And they did, and I'm really proud of that."
"On offense, the first thing we wanted to do was to be patient, and attack them in a way to put them in some different rotations defensively. We got up 28 [3-point attempts] but we were patient and we were able to pick our spots, which was key for us."
"I thought [Chris Atkinson taking a late charge] was awesome. The guys know that gets me fired up. He sacrificed his body, he's putting his body on the line. We talk about taking charges all the time. You have to anticipate it. You can't think you're going to take a charge at the last second. You have to anticipate that it's coming and be ready for it. It was thrilling to see him take that one."
Inside the Box Score
• Iona held a 34-32 advantage on the glass. Canisius has been out rebounded 16 times this season.
• Five different players made multiple 3-point field goals in the win for Canisius, led by Crumpton, who finished the night by going 4-for-5 from 3-point land.
• The Griffs, who started the night ranked fourth nationally in assists per game average, were credited with 19 assists on 29 made field goals. Atkinson and freshman Malik Johnson each had five assists in the victory for the Blue and Gold.
• The game featured 12 lead changes and 10 ties.
Game Notes
• This was the 71st all-time meeting between the schools, with Iona leading the series 40-31.
• Canisius' victory was the team's first home win over Iona since Jan. 18, 2015.
• The Griffs have made 10-or more 3-point field goals in a game 52 time since the start of the 2012-13 season.
• Valenti, who made his 60 consecutive start for the Griffs on Tuesday, has now led the team in scoring 23 times in his career.
• Douse is averaging 19 points per game in the team's last three outings.
• The three 3-pointers for Robertson gives him 199 in his career. He has now made multiple 3-point field goals in a game 58 times in his career.
• In addition to a season-high 10 points, Atkinson recorded his first career blocked shot in the win Tuesday.
• Dixon-Green set new career highs in points (10) and rebounds (five), and matched a career-high with 13 minutes on the floor.
Up Next
Canisius will start its final regular-season road trip on Friday, Feb. 17 when the team travels to play at Rider. Game time in Lawrenceville, New Jersey is set for 7 p.m., and the game will be broadcast live on ESPN3. The audio call will be on Timeless WECK 1230-AM and 102.9-FM in Buffalo and the Golden Griffin Broadcast Network.