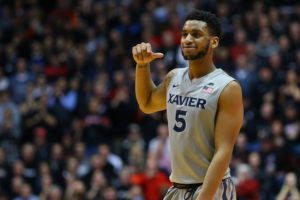 Courtesy of GoXavier.com
SPRINGFIELD, MASS. – The Naismith Memorial Basketball Hall of Fame announced today that Xavier University junior Trevon Bluiett is among the 10 watch list finalists for the 2017 Julius Erving Small Forward of the Year Award. Named after Hall of Famer and 11-time NBA All-Star Julius Erving, the annual honor in its third year recognizes the top small forwards in Division I men's college basketball. This marks the second straight year that Bluiett has been named to the list of 10 finalists.
Bluiett ranks second in the BIG EAST Conference in scoring at 18.5 ppg., second in 3-point field goals made per game (2.6) and ninth in rebounding at 5.9 rpg.
Bluiett, 2016-17 preseason First Team All-BIG EAST selection, is also listed on the Lute Olson Award Preseason Watch List (collegeinsider.com). The Lute Olson Award is presented to the nation's top Division I player who has played at least two seasons.
Bluiett was named BIG EAST Conference Player of the Week this past week for his efforts in road games last week at Cincinnati and at St. John's, averaging 30.5 points and 7.0 rebounds, while shooting 70.4 percent (19-of-27) from the field, including 70.6 percent (12-of-17) from 3-point range.
Xavier, 15-6 overall and 5-3 in the BIG EAST, hosts Seton Hall tonight.
"After excelling at both the collegiate and professional level for nearly thirty years, Julius Erving is undoubtedly a legend of our game," said John L. Doleva, President and CEO of the Basketball Hall of Fame. "To be recognized as a finalist for the Julius Erving Small Forward of the Year Award puts these athletes in a very elite class."
Julius Erving attended the University of Massachusetts and averaged 26.3 points and 20.2 rebounds per game, making him one of only six NCAA men's basketball players to average more than 20 points and 20 rebounds per game. After two seasons, Erving made the jump to the American Basketball Association and was the league's most recognizable player when it merged with the National Basketball Association in 1976. During his professional career, Erving won three championships, four most valuable player awards and three scoring titles. In 1996, Erving was named a member of the NBA's 50th Anniversary All-Time Team and in 1993 he was inducted into the Naismith Memorial Basketball Hall of Fame.
In March, five finalists will be presented to Mr. Erving and the Hall of Fame's selection committee for the 2017 Julius Erving Small Forward of the Year Award. The winner of the 2017 Julius Erving Award will be presented at the ESPN College Basketball Awards Show live from The Novo by Microsoft in downtown Los Angeles on Friday, April 7, 2017. Broadcast information will be released at a later date.
Previous winners of the Julius Erving Small Forward of the Year Award include Denzel Valentine, Michigan State (2016) and Stanley Johnson, Arizona (2015). For more information on the 2017 Julius Erving Award, log onto www.HoophallAwards.com.
2017 Julius Erving Small Forward of the Year Award Finalists
Evan Bradds
Belmont
Kelan Martin
Butler
Jaron Blossomgame
Clemson
Jayson Tatum
Duke
Dwayne Bacon
Florida St.
Josh Jackson
Kansas
Justin Jackson
North Carolina
Dillon Brooks
Oregon
Josh Hart
Villanova
Trevon Bluiett
Xavier