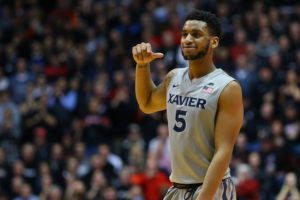 Courtesy of GoXavier.com
CINCINNATI — Xavier University junior guard Trevon Bluiett has been named BIG EAST Conference Player of the Week for his efforts in road games this past week at Cincinnati and at St. John's.
Bluiett averaged 30.5 points, 7.0 rebounds, 1.0 assists and 1.0 steals in Xavier's two games this past week, while shooting 70.4 percent (19-of-27) from the field, including 70.6 percent (12-of-17) from 3-point range.
Bluiett scored a career high 40 points at Cincinnati on Jan. 26, XU's first 40-point game since 2003 National Player of the Year David West scored 47 in a win over Dayton at Cintas Center in 2003. He scored 21 points and grabbed 10 rebounds in the win at St. John's on Jan. 29, his second double-double of the season and the eighth of his career.
Bluiett ranks second in the BIG EAST Conference in scoring at 18.5 ppg., second in 3-point field goals made per game (2.6) and ninth in rebounding at 5.9 rpg.
This is Bluiett's first BIG EAST Player of the Week honor this season but he has been named on the BIG EAST Weekly Honor Roll four times.
Xavier, 15-6 overall and 5-3 in the BIG EAST, hosts Seton Hall on Wednesday night.