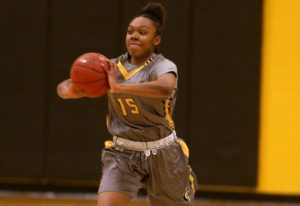 By PAUL GOTHAM
ROCHESTER, N.Y. — Five players finished in double figures as the Monroe Community College Lady Tribunes raced to a double-digit advantage in the early moments and never looked back en route to a 98-16 victory over the Mercyhurst North East Saints in Region 3 action on Monagan Court Saturday afternoon.
Sierra Green paced a dominating first-half effort behind the arc. Green hit four of five attempts she took from long range.
"It felt really good today," she said. "I've been struggling a little lately, so it was good to get going."
The freshman guard led the way as Monroe scored on 10 straight possessions to turn a 28-point advantage into a 50-3 game.
Green's first triple came from the right corner. Two possessions later she knocked down a pull-up trey on the break. She took a Shalix Hines lead for another. Three trips later, the 5-foot-8 freshman hit again.
Green and Erica Abitante connected on seven of 11 three-point attempts in the first half.
"The basket looked like the size of the Pacific Ocean," Abitante said smiling. "I came out of the game, and [Sierra] came in. I just told her to keep going."
Monroe took a 56-7 advantage going into the locker room.
"We have a lot of heart," Abitante said. "We play for each other. We stay focused and got it done."
Monroe scored eight points before Mercyhurst NE took its first shot of the game. The Lady Tribunes won the opening tap, and Abby White used a ball screen to  nail a pull-up jumper from just inside the free throw line. Green led Abitante for a catch-and-shoot 3-pointer from the left corner. Caitie Broderick converted one of two free throws. Lanay Rodney hit two more from the charity stripe, and the Lady Tribunes were off and running at 8-0.
Rodney scored on the next two possessions to push the lead to a dozen.
Abitante closed the quarter with her second triple of the day, and Monroe held a 21-0 advantage after 10 minutes of play.
"We were getting open, so they were pretty much easy shots," Abitante said. "Coach tells us to take it, so we do."
The Lady Tribunes forced 38 turnovers for the game which they converted into 35 points. MCC grabbed 25 offensive rebounds and scored 25 second-chance points. The Lady Tribunes handed out 26 assists on 37 made field goals.
"Everybody can finish on this team," Green said of the high assist numbers.
Rodney scored 19 points on 8-of-17 shooting from the floor and 3-of-3 from the free throw line. Ellease Billings-Harrison came off the bench to 13 on 5-of-6 shooting. Tatyanna DiRoma netted 11. Abitante finished with 11. Green had 16.
Monroe improved to 13-3 on the season and 2-0 in conference play. The Lady Tribunes travel to play Genesee Community College on Wednesday.