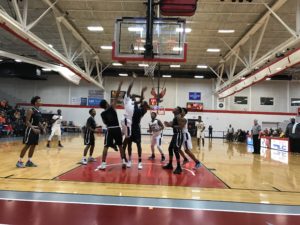 By PAUL GOTHAM
ROCHESTER, N.Y. — Every contender needs to show the ability to absorb a punch and return to form. For the UPrep Griffins that moment of truth came during the second quarter of Wednesday night's matchup with the Bishop Kearney Kings. Staggered by a flurry of jabs, the young Griffins picked themselves off the canvas and answered with haymakers.
Jeenathan Williams poured in 20 of his game-high 28 points in the second half as UPrep erased a halftime deficit and went on to defeat Bishop Kearney, 78-60 in non-league action at Roberts Wesleyan College.
Williams scored four and handed out an assist as UPrep opened the third quarter with a decisive 11-2 run.
"We just focused," Williams said of UPrep's attitude coming out of the locker room. "We came together as a team. We talked with the coach. He told us we got to stop playing around. We weren't as aggressive as we usually are on defense, and they just were scoring. Coach told us we got to get three (stops) in a row, and we did it."
Jabez Thomas converted a rebound and putback on the first possession of the stanza. Jakhi Lucas led Williams for dunk on a two on one break. Two possessions later UPrep, ranked fourth in the most recent New York State Class AA poll,  regained the lead for the first time since early in the second quarter.
"Before the game we wrote down things to do win," Williams explained. "We checked all those little things you need to do to win, and we weren't doing them. We came back out to complete our goals. That was our thing to do."
Williams grabbed a long rebound, went the length of floor and fed teammate James Barnes for a catch-and-shoot three-pointer from the left corner.
"I saw him the whole time," Williams stated. "He was running to the corner. I tried to look him off like I was going to attack, and I just dished it to him. He knocked it down."
Jeenathan Williams finds James Barnes on the break for a triple. pic.twitter.com/3hlcsfbv6O

— Paul Gotham (@PickinSplinters) January 19, 2017
It was Barnes's first basket of the game and only triple of the contest.
"I was just trying to run the floor and get to my spot," Barnes said. "The shot just came. It was a good look. I was wide open, and he found me."
UPrep led 32-29. They did not trail again.
"We just had to get the motor going," UPrep head coach James Reaves said. "We play in  spurts, and in the second half we really got our act together and started playing. Defensively when we get our act together, the offense takes care of itself."
Williams scored back-to-back buckets in transition to give UPrep a 47-40 at the end of the third quarter. Elroy Clark made it a double-digit affair when he drilled a three-pointer from the top of the arc on the first possession of the fourth.
Jeenathan Williams Euro steps to a layup on the break. pic.twitter.com/tHcKu2rwgJ

— Paul Gotham (@PickinSplinters) January 19, 2017
Early in the second quarter, chances seemed remote that UPrep could have such a lead as Bishop Kearney rattled off a 13-2 run.
Patrick Thomas scored back-to-back buckets in the paint. Tyke'r Harley went end-to-end for a layup. Kevin Goode Jr. connected on a three-pointer from the left corner. Shykell Brown went the length of the floor for a layup, and Nahziah Carter Euro-stepped to the basket in transition. Kearney led 24-17 and looked poised for more.
"We are at the stage where we have to hold each other accountable," Reaves commented. "I can't do all the coaching. They have to coach themselves out on the court. I can't play the game. They're starting to learn that, and it showed."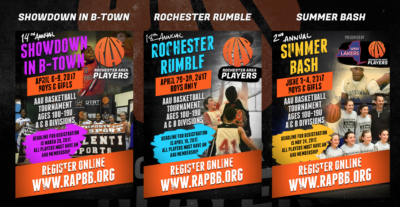 With the game teetering, the Griffins responded. Williams scored in the lane, and freshman Jakhi Lucas hit a wing floater and one for a three-point play to keep the Griffins close.
"It was a matter of getting back in transition, clogging up the lane. We kinda sat Jabez in a one-man zone to clog up the hole. The guys did a good job of talking, communicating and sprinting back on defense."
Kearney led 29-25 at half.
Senior Tamar Jackson netted seven as UPrep opened an early 9-6 advantage.
"It's a huge win, a pleasure to beat them," Jackson said. "They are one of the top teams."
Jackson, the only senior in the UPrep starting lineup, finished with a dozen points on the night. Lucas had 10.
Jackson, Thomas and Williams combined to hit 13 of 14 free throws in the final 2:57.
Carter led BK with 18, but the senior forward and University of Dayton commit picked up his third foul late in the first half and fourth with 1:02 to go in the third quarter.
. @NEXTUPHARLEY finishes on the break. pic.twitter.com/vlzyXe1ord

— Paul Gotham (@PickinSplinters) January 19, 2017

Harley and Thomas scored eight apiece.
UPrep (11-2) hosts Bishop Timon (VI) on Saturday.
Bishop Kearney (9-4) plays at Canisius (VI) on Friday, January 27th.
The same two teams meet again on February 7th at Bishop Kearney.