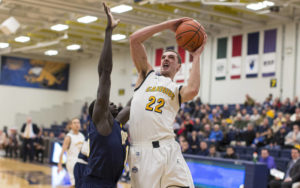 Courtesy of GoGriffs.com
The host Canisius Golden Griffins shot 46.9 percent from the field and 45.5 percent from 3-point land in the game's second half and had a chance to tie the game late, but the Blue and Gold came up short as Monmouth defeated the Griffs 76-72 Monday night in the Koessler Athletic Center. The win, Monmouth's fourth straight, improved the Hawks to 14-5 overall and 6-2 in the MAAC, while Canisius slipped to 12-7 overall and 5-3 in league play.
Canisius trailed by as many as 15 points with 8:28 left in the contest, but the Blue and Gold worked back into the game and cut the Hawks' margin to three at 75-72 with 54 seconds left on the clock. After Canisius forced a Monmouth turnover on the next possession, the Griffs had a chance to knot the game late, but a three-point attempt with 13 seconds left bounced off the side-iron, and Monmouth's Justin Robinson was able to make one of two free-throws to secure the win for his team, Monmouth's third-straight victory over Canisius, dating back to last season.
Monmouth senior Chris Brady led all scorers with 22 points to go with 10 rebounds. Brady scored his career-high 22 points after going 11-for-12 from the field, and he was also credited with an assist and three blocked shots. Robinson had 21 points and eight assists in the win for Monmouth, which shot 43.8 percent from the floor, 11.8 percent from 3-point range and 85.7 percent from the free-throw line for the contest.
Canisius was led by senior Kiefer Douse, who scored 16 points after going 6-for-7 from the floor and 3-for-3 from 3-point range. Senior Phil Valenti posted his sixth career double-double with 14 points and a career-high 12 boards, while junior Kassius Robertson scored 13 points to go with six rebounds, four assists and a steal in 37 minutes of action. Canisius shot 42.9 percent from the floor and 39.1 percent from 3-point land in the contest, but the Blue and Gold ended the night shooting just 56.3 percent from the line, connecting on 9-of-16 tries from the charity stripe.
Monmouth jumped out to an early 10-4 lead just 4:08 into the contest, and the Hawks led the Griffs 40-32 at the break. In the second half, a lay-up by Valenti with 12:17 left to play got Canisius within three at 50-47, but Monmouth used a 14-2 run over the game's next 3:39 to take a 64-49 advantage with 8:28 left in the contest. In that run, Robinson was good for six points, while Brady added four more for the Hawks. The Griffs fought back and got within two points at 72-70 with 2:07 remaining, but a free-throw by Micah Seaborn and a lay-up by Robinson stretch Monmouth's cushion back to five at 75-70 with 1:09 left on the clock.
Canisius junior Selvedin Planincic had nine points and four blocked shots off the bench for the Griffs, while junior Jermaine Crumpton added eight points, three rebounds, two assists and three steals. Eight of the 10 Canisius players that saw time on Monday scored at least two points.
Head Coach Reggie Witherspoon's Postgame Comments
"I thought this was a hard-fought game that we got down in and it forced us to fight back. And we did fight back. I think our frustration level exceeded our level of poise there for a while. Give Monmouth credit, they're a very good team, and if we didn't have to play against them, I'd certainly like watching them."
"[Monmouth] did a really good job tonight, but both teams were really out there defending beyond the arc. They did a really nice job, and so did we. It was a slugfest."
"[Chris Brady] did a good job [defensively] and he was able to go down on the block and score. He scored in traffic. He may have been the difference in the game."
Inside the Box Score
• Monmouth outscored Canisius 40-30 in the paint, and the Hawks held a 12-2 advantage on fastbreak points.
• Monmouth pulled down 46 rebounds against Canisius' 33. Of Monmouth's 46 boards, 14 came off the offensive glass and the Hawks turned those in 15 second-chance points.
• Canisius held Monmouth to just 2-for-17 from 3-point range on Monday, while Canisius knocked down nine 3-pointers in the losing effort.
• Monmouth led the game for 38:37, and the game was tied for 1:23. This marks the first time all season Canisius has not held a lead in a game.
Game Notes
• This was the ninth all-time meeting between the schools, with Monmouth holding a 7-2 advantage in the series.
• The loss ended Canisius' five-game home winning streak.
• Since Nov. 26, Canisius has lost just three times. Two of those losses came to Monmouth, who sweeps the regular-season series from the Griffs for the first time since 2014-15.
• Freshman guard Isaiah Reese had a team-high five assists for the Griffs, who ended the night with 19 assists on 27 made field goals. Reese has now led the team in assists four times this season.
• Robertson became just the fourth player in program history to make 180-or more career 3-pointers. He has multiple 3-point field goals in 17 games this year and 52 times in his career.
• Valenti's 14 points on Monday gives him 1,131 in his career. He ranks 24th in career scoring in program history.
• The crowd of 1,684 is the largest in the Koessler Athletic Center this season.
Up Next
Canisius will travel to meet Quinnipiac on the road Friday, Jan. 20, with tipoff set for 7 p.m. The game will be broadcast live online at QU All-Access, and the audio call will be on Timeless WECK 1230-AM and 102.9-FM in Buffalo and the Golden Griffin Broadcast Network.