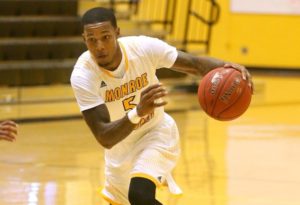 By PAUL GOTHAM
ROCHESTER, N.Y. — After taking an elbow to the mouth then getting called for a pair of first-half fouls, Devonte Dixon needed to make up for lost time.
The Monroe Community College Tribune did just that in the second half of Sunday's contest.
Dixon tallied 12 points, and MCC rallied to defeat the Monroe College Mustangs, 79-74 in NJCAA action on Monagan Court, Sunday afternoon.
Having played just eight minutes in the first half, the Tribunes leading scorer connected on a catch-and-shoot 3-pointer from the left corner to give MCC a 57-54 lead.
Devonte Dixon drills a catch-and-shoot triple. @MCCTribunes pic.twitter.com/ahA1FkI9wa

— Paul Gotham (@PickinSplinters) January 15, 2017
"Sitting on the bench I was just waiting to get back in and hit a three," Dixon said. " Second half I knew I had to hit one for the team to get us some momentum."
Two possessions later the 6-foot-1 sophomore delivered a near carbon copy from in front of the Tribune bench.
"Those shots were huge," Tribune head coach Jerry Burns said. "I would have like to have seen him play the whole game, but he got in foul trouble. It shows a lot about his character. Bloody lip, foul trouble he could have very easily packed it in."
Omar Williams drives and dishes. Devonte Dixon drains another. @MCCTribunes pic.twitter.com/FOfCuyjTEj

— Paul Gotham (@PickinSplinters) January 15, 2017
Dixon made it a 65-63 game with a drive from the corner and-one. He converted three free throws for  a 68-67 edge with 5:47 remaining in the game.
"We've talked to him about just staying within yourself," Burns explained. "Today was a perfect example. The shots that he made at crucial times were shots that were within himself. I thought he did a really good job of coming back and just making shots that were good shots within his style of play."
With Dixon stretching the defense, MCC took advantage to feed Tremaine Carter in the paint for a pair of baskets. Kewan Platt sank two free throws with 2:33 left in the game to give the black and gold a lead it did not surrender at 76-74.
Tremaine Carter. With a smooch. @MCCTribunes pic.twitter.com/i038UrlrDT

— Paul Gotham (@PickinSplinters) January 15, 2017
Less than 24 hours after a disappointing 65-56 loss to Herkimer, the Tribunes pulled out a win despite committing 23 turnovers and shooting just 35 percent (7 of 20) in the first half.
"After the way we played yesterday, it was terrible," Burns said. "To get the W today was big. As long as you win."
Trailing by 10 late in the first half, the Tribunes rallied to make it a one-possession game going into the locker room.
"Score and get a stop; score and get a stop," Dixon stated. "That was the mindset. Keep the intensity going. Make them force shots which we did. They were forcing shots and committing turnovers."
Switching between man-to-man and zone defenses, MCC held Monroe College without a field goal for 10 possessions.
"I wanted to keep throwing something different at them, so they didn't keep getting the usual," Burns noted. "To me, it wasn't about changing defenses as it was just energy. I thought yesterday our energy was really poor. I thought our energy today was much better today."
MCC trailed 41-38 at half.
Kewan Platt doing work in the lane. @MCCTribunes pic.twitter.com/MffIjN86kw

— Paul Gotham (@PickinSplinters) January 15, 2017
Holden Redparth gave the Tribunes their first lead of the day with a triple from the left corner. Redparth finished the day with a team-high 17 on 4-of-6 shooting from the floor including 2-of-3 behind the arc to go with a 7-of-8 effort from the free throw line.
Carter added 10 on 5-of-7 shooting including converting a 2 v 1 with with Dixon for the final score.
Platt scored 12, and Destin Blunt chipped in 11 on 3-of-6 shooting. Omar Williams scored nine and dished four dimes.
Bombs Away! Omar Williams buries a Trey. @MCCTribunes pic.twitter.com/fqdCoNhzoW

— Paul Gotham (@PickinSplinters) January 15, 2017
Monroe College's Dani Koljanin led all scorers with 18 and a game-high nine rebonds. Tyler Ancrum tallied 14 and handed out a game-high seven assists.
The Tribunes finished with 13 assists on 21 made field goals. MCC shot 30 of 43 from the free throw line and outscored the Mustangs by five at the charity stripe.
Led by Carter, Platt and Redparth MCC's bench outscored its counterparts, 39-21.
Monroe College, a Division I college out of New Rochelle, New York, had the advantage in points off turnovers (18-10), second-chance points (11-8) and points in the paint (24-20).
MCC (9-6) opens Region III play when the Tribunes travel to Niagara County Community College to play the Thunderwolves (13-2). NCCC has won 10 straight and is ranked No. 12 in the country.