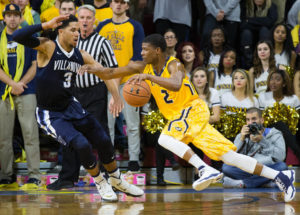 Courtesy of GoExplorers.com
KINGSTON, R.I. – Junior Amar Stukes scored a career-high 22 points and the La Salle University men's basketball team used a strong first half to secure an 87-75 victory over Rhode Island and hand the Rams their first home loss of the season on Thursday evening.
The Explorers shot 65.0 percent from the field in the opening 20 minutes and held the Rams to just 25.9 percent shooting as they won their third straight game and improved to 9-5 overall and 3-1 in Atlantic 10 play.
Facing the Atlantic 10's best statistical defense that came in allowing 64.2 points per game, La Salle was efficient from the start and jumped out to an 11-5 lead following a three-pointer from sophomore Pookie Powell. Powell was a menace for URI to guard in the opening stanza, scoring 12 points on 4-of-6 shooting.
A layup from Rhode Island cut the margin to 11-9 at the 15:09 mark of the half, before the Explorers unleashed an 18-2 run over the next eight minutes that changed the complexion of the game. Over that span, La Salle made six of its nine shots while forcing URI into a 1-for-11 performance with four turnovers as the lead grew to 29-11.
The lead ballooned to 43-22 by halftime, as the Explorers turned in their most efficient half of the season offensively while also holding its opponent to its lowest shooting percentage in a half this year.
In the second period, Stukes knocked down four straight free throws to extend the La Salle lead to the largest of the game at 54-26 with 16:46 remaining. The Philadelphia native and Big 5 Scholar-Athlete of the Year went an incredible 13-for-14 from the free throw line as the Explorers knocked down 30 of their 41 attempts.
Rhode Island made every effort to come back, cutting its deficit to 12 on a pair of occasions. But the Explorers were able to fend off the Rams to earn the important road win.
La Salle's 87-point output against Rhode Island was the most the team had allowed in a home game since the Explorers scored 88 points in an overtime loss during the 2008-09 season. Junior B.J. Johnson added 16 points, seven rebounds and a pair of blocked shots while junior Demetrius Henry and senior Jordan Price each had 10 in the win.
The Explorers return home for another Atlantic 10 contest on Sunday, Jan. 15 as they host George Washington in a late-afternoon matchup that tips off at 4:30 p.m. The contest will be televised on NBC Sports Network.