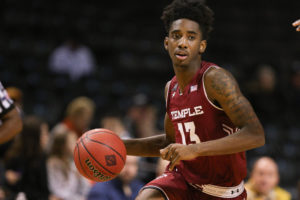 Roundup of Section Five alums playing in the collegiate ranks.
Temple Owl Quinton Rose (Bishop Kearney) averaged 14 points, 3.5 steals, 2.5 blocks and an assist in two games last week to earn American Athletic Conference Rookie of the Week. It marked third time this season Rose earned the honor. Rose shot 12 of 18 (66.7 percent) from the floor for the week. He collected a career-high five steals in a loss at SMU. Read the conference press release and view highlight footage here. The 6-foot-8 guard averages 10.4 points, 3.5 rebounds and 1.5 assists on the season. Rose and Temple travel to play at UConn on Wednesday. CBS Sports Network will televise the game which tips at 9 pm.
Phil Valenti (Aquinas) poured in 20 points, grabbed six rebounds and handed out three assists as Canisius defeated Fairfield, 86-72, Tuesday night. Valenti leads Canisius, which had its longest winning streak since the 1998-99 season snapped at seven games on Sunday, with 5.8 rebounds. Per KenPom,  his offensive rebound rate of 8.4 ranks 14th in the Metro Atlantic Athletic Conference. The 6-foot-7 forward nets 12.9 per game and hands out 2.5 assists. Canisius (11-6/4-2) hosts Marist this Saturday. A 2 pm tip time is scheduled.

Emmitt Holt (Webster Schroeder) averages 13.4 points and 6.1 rebounds for the Providence Friars. Holt scored 17 on 7-of-14 shooting in the Friars recent loss to then No. 10 Creighton. It was Holt's second straight 17-point performance. He finished two rebounds shy of his third double-double of the season in Providence's loss to DePaul, Tuesday night. Holt contributes 13.4 points and 6.1 rebounds per game. Providence hosts Seton Hall on Saturday. A noon tipoff is slated.
Freshman Anthony Lamb (Greece Athena) scores 11 and grabs 5.4 rebounds for a Vermont Catamounts (12-5/2-0 America East) squad which has won four straight and five of six. Lamb's offensive rebounding rate of 7.3 ranks him 12th in the conference. Vermont travels to play at Binghamton, Wednesday night. The game, with a 7 pm start time, can be seen on ESPN3.
Thomas Bryant (Bishop Kearney) leads the Indiana Hoosiers with 7.2 rebounds per game. The sophomore center scores 11.8 and hands out 1.5 assists per game.
Dontay Caruthers (East High) plays 20.5 minutes per game for the Buffalo. The sophomore guard averages 2.3 assists, with 2.2 rebounds, 1.7 blocks and 3.3 points for the Bulls. UB hosts Ball State on Saturday. A 2 pm start is scheduled.
Antwoine Anderson (Bishop Kearney) scores 10.7 per game while handing out 3.1 assists and collecting nearly two steals per game for the Fordham Rams. Anderson and Fordham meet the St. Bonaventure Bonnies at the Blue Cross Arena this Saturday. A 4:30 pm start is slated.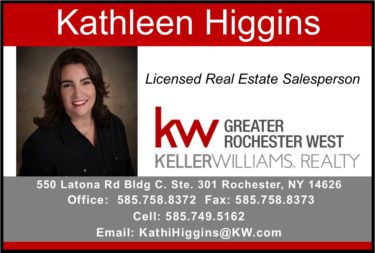 Sophomore Brendan Wind (Greece Athena) chipped in a career-high 25 points (11-for-18) to help the Nazareth College Golden Flyers cruise to an 82-65 victory over visiting Hilbert Wednesday night at Kidera Gymnasium. Read more and see highlight footage here.
Freshman center Robert Aguilera (Webster-Thomas) of the RIT men's basketball team, was named Liberty League Rookie of the Week. READ MORE.
Shabazz Mosley (Leadership Academy) and Shane Fanning (Rush-Henrietta) continue to lead Finger Lakes Community College. READ MORE.
Brian Fobbs (Bishop Kearney) scored 27 and grabbed seven rebounds in Genesee Community College's recent loss. READ MORE.