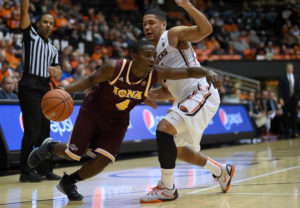 Courtesy of GoGriffs.com
NEW ROCHELLE, N.Y. – The host Iona Gaels made 15 3-point field goals and shot 61.7 percent from the field for the game en route to a 98-75 win over Canisius Sunday afternoon in the Hynes Center. The win improved Iona's record to 10-7 overall and 3-3 in MAAC play, while the loss ended Canisius' seven-game win streak. The Golden Griffins are now 10-6 overall and 3-2 in league action.
Iona sophomore Schadrac Casimir scored a game-high 27 points for the Gaels after he went 9-for-12 from the field, with seven of those baskets coming from 3-point land. Senior Jordan Washington scored 20 points to go with six rebounds, and sophomore guard Rickey McGill posted a double-double with 14 points and a game-high 14 assists. Iona shot 61.7 percent from the field and 60 percent from 3-point land in the win, which snapped its two-game losing streak.
Canisius junior Jermaine Crumpton scored a team-high 21 points in the loss for the Griffs. He also added six rebounds and two assists to the losing effort. Fellow junior Kassius Robertson was good for 15 points, while freshmen Spencer Foley and Isaiah Reese tallied eight points each. Freshman Malik Johnson added seven points and a team-high six assists for the Blue and Gold, which shot 40.8 percent from the field and just 22.6 percent from 3-point range.
Canisius jumped out to an early 11-point lead at 13-2 just 3:16 into the contest, and the Griffs led Iona 19-9 with 14:16 left before halftime after Kiefer Douse scored a lay-up, but the Gaels took over from there, outscoring Canisius 32-10 over the next 9:06 to take a 41-29 lead with 5:00 left before intermission. In the second half, Canisius got within 13 points at 59-46 thanks to a jumper in the lane by Johnson with 15:33 left, but the Gaels answered the bell again, using a 7-0 over the game's next 1:45 to make the score 66-46 with 13:05 remaining.
Head Coach Reggie Witherspoon's Postgame Comments
"I thought Iona played great tonight. They moved the ball and they shot it extremely well and they had great energy. Some bounce-back energy. And we had a clunker, so give them credit."
"We scored some points early, but I didn't like our vibe. I thought our vibe was terrible to start the game. We scored some points early, so it hid it a bit, but our coaching staff was sitting there wondering what was wrong, and eventually it showed."
"I just didn't like our energy, as soon as the ball was tipped off. We were mad at each other, the guys were complaining, they didn't know who they were guarding. Just those little things that hasn't happened all year long."
Inside the Box Score
• Canisius out rebounded Iona 33-32 for the game, with the Griffs securing 15 offensive rebounds in the loss.
• The Griffs were credited with 16 assists on Sunday, the 14th time this season the team has had 15-or more assists in a game.
• Canisius went a perfect 10-for-10 from the free-throw line for the game.
Game Notes
• This was the 70th meeting between the schools, with Iona holding a 40-30 lead in the series.
• The win moves Iona's win streak in the series to four straight, dating back to last season.
• The loss for Canisius ended the team's longest winning streak since the 1998-99 season. Prior to Sunday, Canisius' last loss was Dec. 4 at Monmouth.
• Robertson hits three of the Griffs' seven 3-point field goals on Sunday. He now has 168 career 3-pointers, which ranks him fifth in school history.
• The 21-point effort for Crumpton gives him 20-plus points in three games this season and five games for his career. It also extends his streak of 10-plus points scored in a game to 11, dating back to Nov. 26 at Youngstown State.
Up Next
Canisius will travel to play at Fairfield on Tuesday, Jan. 10, with tipoff set for 7 p.m. The game will be broadcast live on MAAC.tv, and the audio call will be on Timeless WECK 1230-AM and 102.9-FM in Buffalo and the Golden Griffin Broadcast Network.