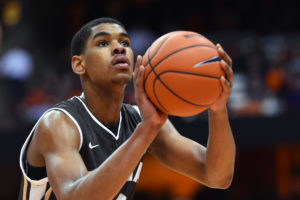 Courtesy of GoBonnies.com
Denzel Gregg scored a career-high 24 points and grabbed 12 rebounds to lead St. Bonaventure to an 82-72 win over George Mason on Saturday at the Reilly Center.
The senior forward also helped key an improved defensive effort as the Bonnies held the Patriots to 42 percent shooting.
St. Bonaventure (10-5/2-1 A-10) led from start to finish, but it was just a four-point game with 5:32 left when sophomore guard Nelson Kaputo made a three-pointer that made it a 68-61 Bona lead. Gregg's three-point play with 1:30 remaining pushed the advantage to 11 points and effectively sealed the Bonnies' second Atlantic 10 Conference win.
Idris Taqqee also recorded a double-double with 13 points and 11 rebounds. St. Bonaventure outrebounded the A-10's top rebounding club 39-36, including 15 on the offensive end. Kaputo chipped in a season-high 13 points in 20 minutes off the bench. Their efforts sparked a win over a much-improved George Mason club that is now 11-5 overall (1-2 A-10).
St. Bonaventure lost leading scorer Jaylen Adams midway through the second half due to an ankle injury. The nation's third-leading scorer, he finished with a season-low seven points but did have seven assists. Second-leading scorer Matt Mobley was limited to eight points.
How It Happened:
The Bonnies started well, opening an 18-10 lead by the 13:12 mark. Denzel Gregg scored six straight points that expanded what was a 12-10 edge.
Marquise Moore, the Patriots' leading scorer and rebounder, pulled Mason within 18-16, but the Bonnies quickly answered with five points by Adams and Mobley to make it a 23-16 lead.
The Patriots again pulled within three only to have St. Bonaventure respond. Taqqee and Ayeni both made jumpers to push the Bona lead to 30-23.
Late in the half, the Bonnies used a 6-1 run to open their largest lead of the first half at 38-26.
It was a 38-29 game at halftime, and after a jumper by Mason's Ian Boyd to start the second half, Gregg and Adams scored back-to-back to make it a 42-31 lead.
Adams left the game with 12:59 to play after injuring his right ankle while driving to the basket. He appeared to step on a George Mason player's foot. Adams did not return to the game.
Even without their floor general and leading scorer, the Bonnies' lead hovered between six and 11 points all the way until the 5:56 mark when a Jaire Grayer layup cut George Mason's deficit to 65-61.
Kaputo drained a three-pointer, his third of the game, to give St. Bonaventure some breathing room.
Gregg's three-point play with 1:30 left made it 76-65. From there, George Mason was forced to foul and could not close the gap.
George Mason went to the free throw line 32 times, making 22, while the Bonnies were 17-23 at the line.
Turnovers were a factor as St. Bonaventure had just eight while Mason committed 16.
Coach Mark Schmidt:
"I thought we had a better performance on the defensive end today. Going into the game, we knew how good they were at attacking the basket, getting to the lane. I thought we did a much better job of keeping them out of the lane as much as we could without fouling. From a defensive standpoint, we played better on that side of the court. If someone told me we were going to score 82 points and (Mobley) and (Adams) were in single digits, I would've been surprised. We beat a good George Mason team."
On Denzel Gregg: "I thought he was terrific. He was aggressive. When he's going to the offensive glass, that's when you know he's engaged. One of the reasons why we've had success here, is that guys get better. We need guys to flourish and get better every year. Denzel wasn't a guy who could get 24 and 12 as a freshman … he continued to work at it and now he's reaping the benefits."
On Nelson Kaputo: "He gave us a huge lift with Jay (Adams) going down. I always tell the guys, you never know when your number is going to be called. He really came in and gave us a big lift. We always say we're not a one man show. You always need those role guys to step up and make those contributions and Nelson did that today."
Beyond The Boxscore:
Coach Mark Schmidt is now tied with Jim Satalin for second place on St. Bonaventure's coaching wins list with 156 career wins.
Gregg's prior career high was 23 points set this year in the season opener against St. Francis.
Gregg tied his season high with 12 rebounds (five offensive). His career high is 15.
Taqqee came within one of his career high in rebounds (12). His 13 points were his best outing since he had 16 against Buffalo Dec. 3.
Taqqee also tied his career best with four assists.
Prior to scoring 13 points Saturday, Kaputo had scored three points (in 26 minutes) over his five games this season.
Saturday was the fifth time this year the Bonnies had less than 10 turnovers in a game.
Even without students on campus, the attendance was 4,026.
Up Next: St. Bonaventure will travel south to face Richmond next Wednesday, Jan. 11, at the Robins Center. Tipoff will be at 7 p.m.