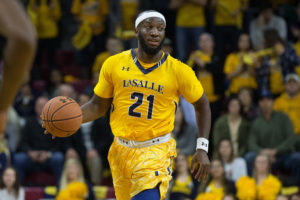 Courtesy of GoExplorers.com
PHILADELPHIA – The La Salle University men's basketball team used a total team effort to pick up its first Atlantic 10 victory of the season, a 75-54 decision over Saint Louis at Tom Gola Arena on Wednesday evening. Senior Jordan Price led all scorers with 16 points while sophomore Pookie Powell had an impressive line of 13 points, eight assists and zero turnovers to help the Explorers improve to 7-5 overall and 1-1 in A10 play.
A free throw from Elliott Welmer opened the second-half scoring for the Billikens (4-10, 0-2 A10) to cut their deficit to 33-27. But a game-changing 10-0 run that included five points from Price and a three-pointer from Powell extended the margin to 43-27.
Junior B.J. Johnson, who scored 14 points and went 4-for-8 from three-point range on the game, capped a 7-0 spurt with a fast-break dunk that bumped the lead to 54-33 with 13:16 remaining. The lead ballooned to as many as 28 points twice, and would not go below 20 the rest of the way as the Explorers cruised to the win.
The first half was nip-and-tuck through the first 10 minutes before a three-ball from Johnson sparked an 11-2 run that broke an 11-11 tie and gave the Explorers a nine-point lead. Saint Louis responded with nine straight points of its own to once again tie the score at 22-22 with 3:59 remaining in the period. Powell took over the final four minutes of the half, scoring six of his team's 10 points to put the score at 32-26 at intermission.
Powell's all-around performance included four steals and four rebounds and an efficient 5-for-9 performance from the field. Powell is the first by a college basketball player this season tho register eight or more assists, four or more steals and no turnovers while shooting better than 50.0 percent from the floor.
On the game, La Salle outrebounded Saint Louis, 38-26, thanks in large part to the performance of junior Demetrius Henry. The 6-9 forward pulled down a career-best 12 boards to go along with seven points after missing the Dayton game due to a minor injury. The Explorers also recorded 18 assists while committing just nine turnovers, with the La Salle guards putting together an outstanding line of 16 assists and just three turnovers.
La Salle returns to action on Saturday, Jan. 7 with another Atlantic 10 matchup at Tom Gola Arena. Duquesne comes to town for a Saturday evening contest that is scheduled to tipoff at 8:00 p.m. The game will be televised nationally on American Sports Network and locally on TCN Philadelphia.