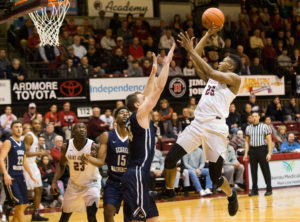 Courtesy of SJUHawks.com
PHILADELPHIA — Late three-pointers by Charlie Brown and Lamarr Kimble gave Saint Joseph's (7-5; 1-0 A-10) the lead for good as the Hawks rallied for a 68-63 win over George Washington (8-6; 0-1) in the Atlantic 10 opener for both teams at Hagan Arena.
Trailing 63-61 with 2:45 to play, Brown hit one at 2:25 to give the Hawks a 64-63 lead. After consecutive stops on defense, Kimble hit a step-back three with two seconds left on the shot clock, to give SJU a 67-63 lead with 31.9 seconds to play. Freshman Nick Robinson picked up a steal on the next GW possession and grabbed a rebound on a Colonials' miss with :04 remaining. He hit 1-of-2 free throws at :03 to provide the final margin.
Brown and Kimble each finished with 13 points for the Hawks, who rallied from a 12-point first-half deficit. Kimble added five assists while Markell Lodge had a team-high six rebounds and three blocked shots. Chris Clover scored seven points in just 13 minutes of action in the second half.
The Hawks suffered a huge blow at the end of the first half when leading scorer Shavar Newkirk went down with a knee injury on a fast break attempt. Saint Joseph's just had junior James Demery make his return to action after missing 10 games with a stress fracture in his foot. Newkirk, who scored 10 points, will undergo an MRI on Saturday.
GW took a quick 10-3 lead and went up by 10, 23-13, on a three-pointer by Jaren Sina at 9:26. The Colonials took their biggest lead, 33-21, with 4:09 to play, but Saint Joseph's closed out the half on an 8-2 run with four straight from Newkirk. It looked to be a 10-2 run but Newkirk was injured as he attempted that last shot.
The Hawks kept the momentum of that run going at the start of the second half, scoring the first six points to close within 35-34. SJU forced the first of five ties of the half, 39-39, when Clover connected on a three at 14:34.
Saint Joseph's took its first lead of the game, 49-48, at 10:39 as Kimble converted a three-point play. The Hawks' biggest lead of the contest was the final margin.
The Hawks committed only three turnovers in the win, and despite shooting 51.6 percent from the field in the second half, made just 3-for-11 from the foul line to finish 9-for-19 for the game.
George Washington connected on 12-of-26 three-point field goals in the game, led by Jaren Sina, who scored 15 points on 5-for-8 from behind the arc. The Colonials got double-doubles from Collin Smith, with 12 points and 11 rebounds, and Tyler Cavanaugh, with 10 points and 13 rebounds. Jordan Roland also had 10 points for GW.
Saint Joseph's hits the road for two straight games, at Rhode Island on Tuesday and at Fordham on Saturday.