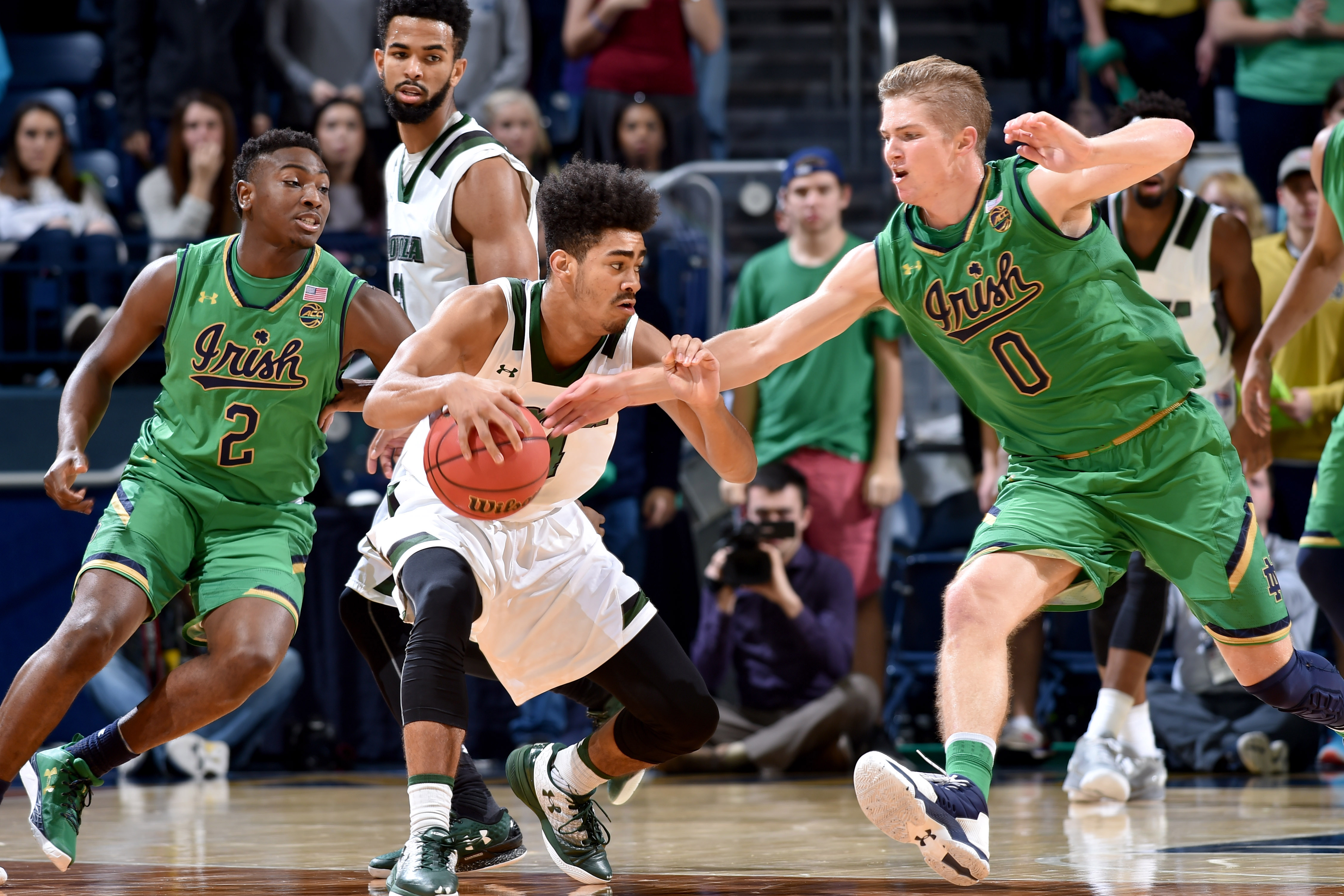 Courtesy of LoyolaGreyhounds.com
BALTIMORE – Chuck Champion made a 3-pointer early in the second half and then had steals on the next two University of Massachusetts-Lowell possession to spark an 11-0 Loyola University Maryland run early in the second half. The Greyhounds used the stretch to go on to a 69-60 win in their final non-conference game of the season on Friday afternoon in Reitz Arena.
The Greyhounds enter Patriot League play in a week with a 6-5 record, a five-game improvement over where they were a season ago. Loyola travels to Washington, D.C., for a 7:30 p.m. game on Friday, Dec. 30, at American University.
Loyola and the River Hawks (4-9 overall) traded baskets to start the second half after the Greyhounds led 27-24 at the break. A Champion 3-pointer two-minutes, 38-seconds into the second half started the 11-0 stretch.
Champion made his first career start against UMass-Lowell, and he finished with a career-best 13 points, two assists and four steals.
The freshmen had steals to thwart UMass-Lowell's next two possessions, and Loyola scored off both River Hawks turnovers. Chancellor Barnard rebounded his own miss and scored after the first Champion steal, and Andre Walker then took a Champion pass and hit a three of his own at 16:24, pushing the Loyola advantage to 37-26.
Jarred Jones would make 1-of-2 at the free-throw line on the Greyhounds' next trip down the court, and after a missed three by the River Hawks, Cam Gregory had a putback basket to give Loyola a 14-point advantage.
UMass-Lowell slowly chipped away at the lead, pulling within a possession, 52-49, on a Ryan Jones transition basket with 5:45 to play in regulation.
Loyola came up empty on its next possession, but Gregory deflected a pass for a steal at the top of the perimeter to turn over UMass-Lowell, and he scored on a fast break with a give-and-go from Barnard. He was fouled on the play and made the free throw, extending the lead back to six.
Matt Harris hit a couple of free throws for the River Hawks at 4:43, but Gregory was in the middle of another big play on the offensive end for the Greyhounds. He rebounded a missed three, kicked the ball out to Walker on the left side, and he knocked down a three to put Loyola in front seven.
The two connected again moments later as Walker took a handoff from Gregory and drained another three, making it a double-digit lead once again.
Harris misfired on a three for the River Hawks at 3:14, and Jones hit a short-corner jumper from the left side to put Loyola in front 62-50.
UMass-Lowell scored seven of the next eight points, and a Tyler Livingston three with 51.7 seconds left made it a five-point game. The Greyhounds, however, did not allow another River Hawks point after that juncture.
Walker scored 17 of his game-high 19 points in the second half, while Jones posted 17 points and six rebounds. Gregory added eight points and a team-best 10 rebounds, while Barnard posted seven points and eight boards.
Harris and Jahad Thomas each scored 13 points, leading five River Hawks in double-figures. Thomas also recorded a double-double with 15 rebounds.
The Greyhounds held UMass-Lowell to 38 percent from the floor and 19 percent from 3-point range. The River Hawks entered the game shooting 46.9 percent from the field, 38 percent from behind the arc.
Loyola also had 12 steals, one off its season-high, and forced 21 UMass-Lowell turnovers. In addition to Champion's four steals, Walker had three and Gregory tallied a pair.