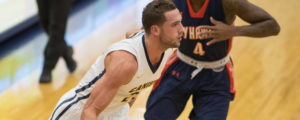 By PAUL GOTHAM
OLEAN, N.Y. — On Saturday Jermaine Crumpton netted a career-high 31 as Canisius beat UB in overtime. Jaylen Adams scored his 1,000th career point Monday night in St. Bonaventure's victory over Army West Point.
Neither were on the floor when Thursday night's game was decided. It didn't matter. Nothing could take the luster from the 165th meeting between these two schools.
Phil Valenti led five in double figures with a season-high 27 points, and Canisius held off St. Bonaventure in overtime, 106-101 at the Reilly Center.
Valenti connected on eight of 14 shots from the floor and scored 17 after halftime including a pair of free throws with 19.1 remaining in the game.
"I haven't won here my whole career," Valenti said.  "It feels good to win here. It's a great environment for college basketball. If you're not going to come out and watch college basketball after this game then you must not like it."
Canisius led for 38:04, but the game contained nine lead changes including five in overtime.
"Obviously a great game," first-year Canisius coach Reggie Witherspoon said.  "I mean St. Bonaventure's got a great team. They fought hard. We got ahead. We played very well I thought in the first half and we looked up and we got a close game again. We pull away a little bit and they come storming back. We couldn't pull away from them.
Valenti converted two free throws with 6:37 to go in the first half to give Canisius it largest lead of the game at 37-22.
Less than four and half minutes later, the Bonnies knotted the game. Matt Mobley scored nine of his career-high 33 points during the stretch hitting three times behind the arc. David Andoh added a triple, and Denzel Gregg completed a three-point play to tie the game at 41.
Canisius responded to take a seven-point advantage at halftime. Kassius Robertson got in the lane for a bucket. Isaiah Reese hit a three-pointer from the right wing and hit two free throws for a 50-43 Canisius lead.
The 50 points represent the most Bona has surrendered in a half this season.
"When you score 101 points in your home gym, you should win, but we didn't," St. Bonaventure head coach Mark Schmidt stated. "Give Canisius credit. We can really score the basketball, but at this level you got to be able to defend it. We certainly didn't do that today. All the credit goes to Canisius. They played really well. They came in they were really hot."
The Golden Griffins scored on their first five possessions of the second half to push the lead back to double digits at 62-50.
"Part of it is dribble penetration," Schmidt said when asked about Bona's defensive struggles. "We have a hard time keeping the ball in front of us. So when we get beat now it's rotations, and they do a good job of making that extra pass."
Bona switched to zone defense and scratched their way back into the game.
"At this level you can only play zone so much," Bona head coach Mark Schmit noted. "But we were in foul trouble, and we weren't doing a good job in man to man, so we stayed in the zone."
Matt Mobley connected twice from the free throw line and hit a pull up jumper just outside the lane. Adams scored 10 straight for Bona, and David Andoh tied the score at 79 with a catch-and-shoot three from the top of the key.
"We went small," Witherspoon said. "We went small for stretches in the first half and it worked out fine. When they went zone, there's some things we do in our package of zone offense that we're not used to doing when we're small. It took a little bit of air out of us. It took some time for us to adjust."
Canisius came into the game leading the MAAC and 20th in the nation hitting 41 percent from behind the arc. The Griffs connected on 16 3-pointers in a loss to Monmouth. They had hit 62 triples in the five games leading up to Thursday's contest. The Griffs hit 15 of 38 (39.5 percent) from long range in the win.
"When we're sharing the ball and it's in a rhythm and it's going side to side I have a lot of confidence in our guys to shoot," Witherspoon said.  "That's what's helped us. When the ball's moving we have a lot of guys who can shoot it, but the most important thing we have a lot of guys who can pass it and the decision making when to pass it. It kinda lets our guys know this shot is coming. We can kinda see it one or two passes away. We're in a rhythm. That's what I think makes us a little bit hard to guard."
Canisius also came into the contest fourth in the nation with an assists-to-field goal percentage of 68.8 percent. The blue and gold dished 22 dimes on 37 makes. At the same time, Canisius committed just 11 turnovers.
"These guys really share the ball," Witherspoon said of his team. "They're starting to see the value of each other, and that's been kinda what we have been talking about since day one is each other. When they have the ability and the vision and the instincts to pass it the way they do, it gets the defense kinda spread out and in a bad positions in a hurry. If you make a mistake and you leave a guy, that guy's ready to shoot. You have to come out and guard him. Then it opens the court up even more."
Kassius Robertson scored 16 for Canisius.
Freshmen Reese (22) and Spencer Foley (14) combined for 36 points.
"The two freshmen Reese and Foley really killed us," Schmidt stated  "We knew Valenti was good and Crumpton was good and Robertson was good. Reese and Foley came out and they shot seven for 12 from threes. To me that was the difference. Those two guys stepped up and played really well as freshmen.
Jaylen Adams fouled out with 4:03 to go in regulation. He scored 17 and netted eight assists.
Crumpton played just 15 minutes and picked up his fifth foul with 2:56 left in the second half. He collected 14 points.
Andoh contributed 18 points for Bona. Denzel Gregg added 15.
The win was the fifth straight for Canisius (8-5). Of the Griffs five losses, three have been by single digits for a combined total of 12 points.
Canisius hosts Siena on January 2nd for a 2 pm start.
St. Bonaventure opens Atlantic 10 play on December 30th when they travel to Amherst to play UMass. A 4 pm tip time is slated.