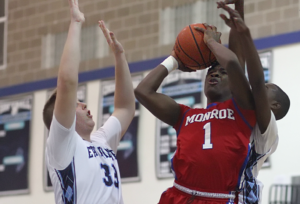 By PAUL GOTHAM
ROCHESTER, N.Y. — Trailing by six early in the fourth quarter, Monroe Redjackets coach Matt McCormick knew where to find the source for his team's offense.
Rayshawn Boswell netted 12 of his team-high 24 points in the fourth stanza, and Monroe rallied to defeat the World of Inquiry Griffins, 80-74 in RCAC action Wednesday night at School #33.
Boswell scored seven of Monroe's final nine points and handed out the assist on the other basket.
"It's kind hard to adjust against him," McCormick said. "He's got so many aspects to his game. If you play up on him, he'll go by you. If you give him space, he'll shoot it."
The junior point guard kickstarted Monroe's offense when he drove the lane for a bucket on their first possession of the fourth quarter. Two trips later, he got into the paint again. This time he dished to Tyquil Glasgow for an easy basket.
After Jonathan Jones connected for three from the right corner, Boswell gave Monroe the lead with a three-ball off the window from the top of the key.
"Nah, I didn't call glass on that one," he said smiling. "It was the right moment."
VIEW MORE RON KALASINKAS PHOTOS HERE.
He didn't need any help with his next triple, and the Redjackets had a two-possession lead at 74-70.
"In the fourth quarter I had to stay focused and help my team out to win. I was getting in foul trouble earlier in the game, reaching too much. I had to stay disciplined."
Coming out of a timeout, the first-team RCAC performer a year ago put the game out reach when he penetrated World of Inquiry's 1-2-2 half-court zone and threaded a pass to Chris Gibson, Jr. for a 79-72 Redjacket lead with less than a minute remaining.
"Defense was keying on me," Boswell explained. "When I drove, the big man stepped up. I just dished it off, and he put it in the basket."

With Boswell directing the offense, Monroe's defense limited WOI to just three field goals for the first six minutes of the fourth quarter.
"There was no adjustment made strategically," McCormick said of his team's defensive effort. "It was all just telling these guys they need to be more aggressive defensively and not be reactive. We had to be the aggressor. That was the change.
"Guys like Tyquil, he stepped up a little bit towards the end of the game. At the beginning he was being reactive. We can't do that. When you're trying to press, and the guys in the back are being reactive, you'll get chewed up all day long."
WOI jumped to an early 10-2 advantage.
Monroe responded. Da'Vante Mateo scored six early in the second quarter to give the Redjackets their largest lead of the game at 27-20.
WOI's CeyQuan Salmon finished a rebound and putback in transition. Charles Maurice Brown hit a pair of free throws, and Leander Blue converted a steal and layup to knot the game at 35 going into the locker room for halftime.
Gibson and Jones contributed 15 points apiece for Monroe (4-0). Jones connected four times behind the arc. Gibson grabbed 14 rebounds. Mateo added 11. Tyquil Glasgow had nine points.
Salmon led all scorers with 26. Brown had 22, and Blue finished with 15 for WOI (1-4).
Monroe, No. 19 in the New York Class A rankings,  travels to play Early College on Friday night. A 5:30 pm start is scheduled.
WOI hosts Wilson Friday at 5:45.