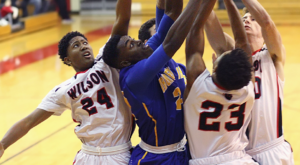 By PAUL GOTHAM
ROCHESTER, N.Y. — Irondequoit head coach Chris Cardon lamented his defense one week ago after the Eagles season-opening win over Wilson Magnet. Tuesday night, the 31st-year coach saw some positives.
Alex Goldsberry netted 18 of his game-high 21 points in the first half as the Eagles sprinted to a double-digit lead and never looked back in an 85-43 victory over the Hilton Cadets.
Irondequoit held Hilton, a team which scored 79 last Wednesday in a victory over reigning Class A2 champion Batavia, to 20 points in the first half.
"We did a good job on their guards," Cardon said. "They set a lot of ball screens, and we have a lot of guys who can switch out on that. That's the key – the versatility of this team.
"At no time did I think we were going to beat them by that. I thought they were the best team we've played coming in…We did some things to disrupt them."
Goldsberry scored eight in the first quarter and paced the Eagles to 20-9 advantage.
"I've been waiting for him to kind of break out," Cardon stated. "I told him 'you got to shoot your layups with your eyes. You're going up and your head is down.'"
The senior forward added 10 more in the second stanza and Irondequoit led 37-20 going into the locker room.
VIEW MORE RON KALISINKAS PHOTOS HERE.
Goldsberry finished the night shooting shooting 10 of 20 from the floor. He grabbed eight rebounds.
Tysean Sizer connected three times from behind the arc in the third quarter to help Irondequoit put the game out of reach. After missing practice the past two days because of a college visit and a awards banquet, the senior guard contributed 17 points. Sizer hit four triples in Irondequoit's victory over Greece Arcadia last Friday.
"He came in before practice, and we walked through some stuff," Cardon explained. "He did a lot of good things. He's in a zone right now. He's shooting the ball really well."
Gerald Drumgoole scored 13 points on six of seven shooting. The sophomore forward collected five assists, four rebounds and two steals.
Zach Stenglein dished seven dimes and had four thefts.

"We got a lot of weapons, a lot of depth on this team," Cardon said. That's the key. If you take one guy away, hopefully someone else steps up."
Irondequoit (3-0) hosts Webster-Schroeder Friday night. A 7:15 tipoff is scheduled.
Hilton (1-2) hosts Rush-Henrietta for a 7 pm tip time.