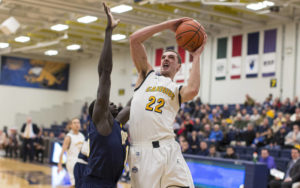 By PAUL GOTHAM
BUFFALO, N.Y. — A milestone attained, trends continued and a modest streak realized.
Kassius Robertson and Phil Valenti scored 19 apiece to lead five in double figures as the Canisius Golden Griffins won for the third straight time with a 77-64 victory over the Albany Great Danes in non-league action at the Koessler Athletic Center, Monday.
Ranked second in the MAAC hitting 46.1 percent from the floor and seventh in the country with an assist-to-field goal percentage of 67.4, the Griffs handed out 20 helpers on 26 made field goals and shots 45.6 percent (26-57) from the field.
"We have guys with really good skills, really good vision and really good instincts," first-year head coach Reggie Witherspoon said. "When the ball moves like that, it keeps us in rhythm.
"We yet can still do better with it. Our spacing has been pretty good. Our ball movement has been sporadic sometimes."
In a game where they never trailed, Canisius jumped on the Great Danes early scoring on five of their first six possessions grabbing a double-digit advantage less than four minutes into the game.
Jermaine Crumpton got the Griffs on the board when he took a high-low feed from Valenti and finished at the rim. Valenti followed with his first three-pointer of the night. Malik Johnson scored on a baseline drive.
Kiefer Douse followed with a baseline drive of his own, and Robertson made it a 12-2 game with long three in transition.
"My teammates and the offense we're running," Robertson said. "Our offense has options everywhere. Other teams got to pick their poison…Just try to be patient. Good shots are going to come, rhythm shots you just got to knock them down."
After a pair of baskets from Albany's Greig Stire, Valenti found the measure again from long range, and with the basket the senior forward became the 35th member of the program's 1,000-point club.
"At that point I was just worried about the game, just getting a win," Valenti said. "I knew it (the milestone) was coming up some time. It's just been a good career. A lot of hard work and a lot of good teammates."
Coming into the contest Valenti had connected just three times from behind the three-point arc this season. The senior captain hit four of five from long range in the first half and five of six overall.
"I noticed they had put their quicker big man on (teammate Jermaine) "Crump" and that my guy was kinda slow getting out," Valenti explained. "After a couple ball reversals I realized that and just shot it. Didn't think about it. Just shot it."
The Golden Griffins hit 12 of of 28 attempts from long range while holding Albany to two of 11. Robertson, who leads the MAAC and is 10th in the nation with 3.7 3-pointers per game, connected on four of eight.
"My teammates are really good at finding me," Robertson stated. "We have some of the best passing bigs in the league. I think Phil is the best passing big in the league. I knock 'em down when I'm open."
Albany scored the first two baskets of the second to cut the lead to one at 32-31. Five minutes later, Robertson took a kick out from Douse and drilled a triple to give Canisius its largest lead to that point at 49-37.
"This was a very physical team that we played, a very good team that was a good challenge for us in this point in our growth, in our development as a team," Witherspoon said. "I thought the second half we settled in and started to control the game a little bit more. We took better care of the basketball with just five turnovers. Consequently, we defended better. A really solid effort by us against a good team."
Douse matched a career high with six assists to go with 12 points.
"That was big," Witherspoon said of the senior guard. "His performance was really big. He really gives us a great dynamic because he's a guy that can defend and rebound but is also skilled enough to be able to get six assists in a game. A lot of times you don't find that. That gives us a great dynamic it really does."
Crumpton added 10 points and nine rebounds. Isaiah Reese chipped in with 13 points- his third straight game in double figures. The freshman guard handed out four assists.
Johnson dished out four assists without a turnover.
David Nichols led Albany with 21 points. Mike Rowley finished with double-double 12 points and 10 rebounds. The Great Danes were without junior forwards Jaraan Lands and Travis Charles who are both out with injuries. Albany outscored Canisius 44-28 in the paint.
Canisius (6-5) plays the University at Buffalo in the second game of the Big 4 Classic Saturday at the Key Bank Center. A 3:30 pm tip off is scheduled.