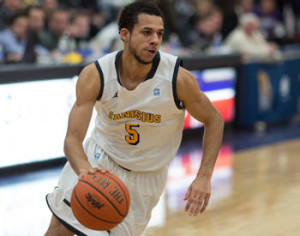 Courtesy of GoGriffs.com
WEST LONG BRANCH, N.J. – The visiting Canisius Golden Griffins made 16 3-point field goals, led by junior Kassius Robertson, who hit a career-high seven treys, but host Monmouth out scored the Griffs 8-2 in the final 2:29 to post a 94-88 win Sunday afternoon in the OceanFirst Bank Center. The win, Monmouth's fifth straight, improved the Hawks to 6-2 overall and 2-0 in MAAC play, while Canisius slipped to 3-5 overall and 1-1 in league action.
Robertson's seven 3-point field goals led him to a career-high 29 points, which led all scorers. Fellow junior Jermaine Crumpton added 15 points after going 6-for-7 from the field and 3-for-3 from 3-point land, while junior center Selvedin Planincic added 11 points, seven rebounds and two blocks in 14 minutes of action. Canisius shot 50 percent from the floor, 51.6 percent from 3-point range and 75 percent from the free-throw line in the loss, but the Blue and Gold ended the game with 19 turnovers, 12 of which came in the game's final 20 minutes.
Canisius trailed Monmouth 84-83 after Robinson drilled a 3-pointer from just in front of the Griffs' bench with 3:29 left to play. Monmouth senior Justin Robinson, the 2016 MAAC Preseason Player of the Year, stretched the Hawks lead to 86-83 moments later with a pair of makes from the free-throw line, but Crumpton knotted the game on Canisius' next trip down the floor with a 3-point field goal with triple from the top of the key with 2:43 left on the clock. From there, the Hawks out scored Canisius 8-2, with Robinson starting the final surge for Monmouth after he completed a traditional three-point play with 2:29 left in regulation time.
Canisius used a 12-2 run midway through the second half to take a 77-70 advantage with 9:57 left on the clock. From there, the Hawks battled back with a 9-2 run of their own in the next 3:35, with Robinson accounting for five of Monmouth's nine points in that run. Canisius regained the lead on its next possession with a bucket by Kiefer Douse, but Monmouth responded with a lay-up by Micah Seaborn and a 3-pointer by Robinson that gave the Hawks an 84-80 hold with 4:39 left in the contest.
Robinson scored 28 points in the win and added six assists, while Seaborn chipped in 25 points, seven boards, three assists and three steals to the winning cause. Monmouth, which made 13 3-pointers, shot 50.8 percent from the field, 50 percent from 3-point land and 68.2 percent from the charity stripe.
Head Coach Reggie Witherspoon's Postgame Comments
"Monmouth is a really good team, and King [Rice] has them playing really well right now. They do a good job of controlling the pace of the game, and they have the ability to fight through adversity and persevere when things get tough during the course of the game."
"We got down in the first half but we fought our way back. We have to take better care of the basketball. We had some sloppy turnovers at points where we needed a quality possession. We need to be a little tighter as a team. We need to trust what we're doing and play hard from start to finish."
Inside the Box Score
• The two teams combined for 29 makes from 3-point land.
• Six of the 10 Canisius players who saw time on the floor Sunday had at least one 3-point field goal.
• After getting four points off the bench in the win at Manhattan on Friday, Canisius scored 51-bench points in Sunday's game.
• The game featured four ties and 11 lead changes.
Game Notes
• This was the eighth meeting between these two schools, with Monmouth leading the series 6-2.
• Five of the eight meetings in this series have been decided by six points or less.
• Robertson's 29 points gives him 20-plus points in three-straight games, dating back to his 27-point performance at Youngstown State.
• Robertson's seven 3-pointers on Sunday gives him 143 in his career, which moves him to ninth all-time in school history.
• Planincic's 11 points and seven rebounds both stand as career highs.
• Freshman Isaiah Reese made his first career start in place of Robinson on Sunday.
Up Next
Canisius will close out its four-game road swing Wednesday, Dec. 7, when the Griffs travel to play at Boston University. Tipoff is set for 7:30 p.m.