By PAUL GOTHAM
OLEAN, N.Y. — On a day when St. Bonaventure paid tribute to one of its greatest teams of the past, a current Bonnie continued adding to his legend. With members of the 1976-77 NIT champion Bonnies in attendance, Jaylen Adams posted a game-high 29, and Bona held off the University at Buffalo Bulls, 90-84 in Big 4 action at the Reilly Center, Saturday.
Adams finished the game hitting 9-of-15 from the floor including 5-of-9 behind the arc and scored 11 of his  game-high 29 points in the final 5:51.
"It was fun out there today," Adams said. "The crowd energy. It's always good to play in the RC, but today was kinda special. Especially with the '77 team coming back. We did it for them and for the fans."
Adams nailed a pull-up three-pointer from the top of the arc to give Bona an 83-72 advantage with 2:16 left on the clock. The junior point guard also led all players with eight assists and four steals.
"He's a guy who doesn't want to run away from the ball," Bonaventure head coach Mark Schmidt said. "He wants the ball in his hands and making plays. There's not a lot of guys like that."
Adams and teammate Denzel Gregg stirred the home crowd into a frenzy with a pair of alley oops dunks midway through the second half.
"They didn't help on the back screens," Adams explained of the two nearly carbon copy plays coming within 78 seconds of each other. "'Zel' told me to throw it up if it's open. We converted."
The second slam gave Bona a 67-57 lead with 8:59 remaining.
"That's just X's and O's," Gregg said referring to his coach's role in the plays. "We just ran the play that he drew up and it worked. Twice in a row."
But Buffalo refused to go away. Three Bulls connected on a quartet of three-pointers within 1:22 to make it a one-possession game with 25 seconds remaining.
"Our guys fight," Buffalo coach Nate Oats stated. "They got a lot of fight in them."
Nick Perkins started the long-range barrage to make it an 83-75 game. Davonta Jordan followed with a steal and pull-up trey. Perkins connected on a catch-and-shoot triple, and Blake Hamilton nailed a step back three. UB trailed 86-84.
" If you're going to play hard, you got to play hard for 40 minutes," Oats added. "We obviously played with a little more energy and effort at the end of the game when we're down. At least we didn't quit. We got some guys who aren't going to quit. Until you figure out how to do it for 40 minutes, you can't beat a team like St. Bonaventure."
Idris Taqqee sealed the win converting four straight free throws.
"Give Buffalo credit, they fought the whole game," Schmidt said. "We found a way. When you don't play your best and you still win, that's a great sign.
"Against a good team like that you can't let them back into the game. You've got to get stops and scores. It was just going back and forth and not much defense was being played."
While UB held Bona's leading scorer, Matt Mobley to nine points on 2-of-8 shooting, Adams led five in double figures. The Bonnies converted 20 UB turnovers into 23 points.
"That's a big key," Schmidt said of the 23-11 advantage the Bonnies held in points off turnovers. "When we take care of the basketball, we're a much better team. The first half we had 10 assists and four turnovers, and we're up by 13. Then we have a negative assist ratio in the second half and we lose the second half by seven. Taking care of the basketball is a big, big thing. Something that we need to get better at."
"If you're going to beat a good team like St. Bonaventure, you're not to turn over the ball 20 times," Oats stated. "It's like the same stuff game after game. We turn the ball over too much. We foul too much. We keep talking about it. It doesn't get fixed. Our guys are playing hard. We're competing. To be down what we were at the half, and fight back and get it down to a one possession game We got some guys who got some fight. We just got to figure out how to clean up the turnovers."
Earlier in the week, Adams netted 27 in SBU's 81-74 victory over Siena. The Baltimore, MD. native has topped the 20-point plateau on five occasions this season and is averaging 22.3 points while handing out 6.1 assists per game. A finalist for the for the John Wooden Award, Adams was named Big 4 preseason Player of the Year. He also garnered first team Atlantic 10 honors as well as preseason honorable mention All-American by SI.com.
"He's not going to make every shot," Schmidt said. "He's not going to play a perfect game, but when the ball is in his hands, something usually good happens. That's a good feeling from a coach's standpoint. It's like having a good quarterback."
Taqqee finished with 16 points and Gregg had 14. David Andoh added a dozen, and freshman Josh Ayeni chipped in with 10.
Perkins led Buffalo with 24. Hamilton had 20, and Willie Conner added 13. Raheem Johnson contributed 12. Dontay Caruthers (East High) collected four points, five assists, five rebounds and three steals.
At halftime the Bonnies celebrated the NIT championship team and retired the jersey of Greg Sanders, the program's leading scorer with 2,238 points. Members of the team were on hand including head coach Jim Satalin and assistant coaches Bob Sassone and Bill Kalbaugh. In addition to Sanders, his former teammates Essie Hollis, Jim Baron, Delmar Harrod, Glenn Hagan, Dan Viglianco, Tim Waterman, Nick Urzetta, Jim Elenz and Bruno DeGiglio attended Saturday's contest.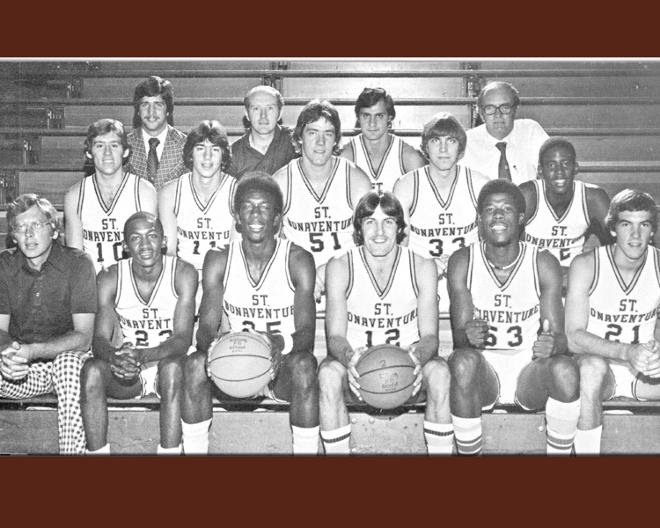 "It was a great environment," Schmidt said. "The '77 team coming back brought a lot of attention, brought a lot of excitement. This place has a great tradition. For those guys all of them to come back and the managers and the sports information director just shows how important Bonaventure basketball is. Our job was to go out there and give 'em a good show, make 'em proud. I thought we did that."
St. Bonaventure has previously retired nine numbers worn by 10 players. The others are Ken Murray (13), Bill Butler (14), Sam Stith (22), Earl Belcher/Hollis (25), Bob Lanier (31), Whitey Martin (34), Tom Stith (42), Andrew Nicholson (44) and Fred Crawford (54).
Statistical Oddity
On paper, Bona got the better of UB on the offensive glass, 19-17. Six of those caroms, though, were grabbed during one possession – a sequence early in the first half in which the Bonnies took seven shots without anything to show for it in the scorer's column. UB outscored Bona, 17-8 on second-chance points. The Bonnies shot 46.8 percent (29-62) from the floor for the game. Remove that one possession and Bona hit 29 of 65 (52.7 percent).
Up Next
Bona (5-2) hits the road to play at Hofstra on Tuesday. The Bonnies return to the RC next Saturday when UNC-Wilmington comes to town.
UB (4-4) continues their odyssey when the Bulls play at Pittsburgh on Wednesday. Other than a contest against Division III Nazareth, UB has spent the season on the road. This has included a trip to Anchorage for the Great Alaska Shootout and contests against then No. 11 Xavier and No. 10 Creighton.