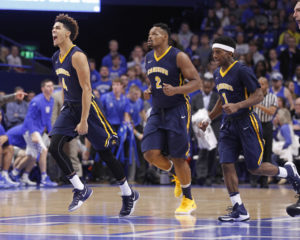 Courtesy of GoGriffs.com
RIVERDALE, N.Y. – Canisius junior Jermaine Crumpton scored a career-high 26 points and matched a career best with nine rebounds and fellow junior Kassius Robertson scored 20 points on the power of five 3-point field goals as the Golden Griffins overcame a 15-point second-half deficit to post a 77-76 win at Manhattan Friday night. The win, Canisius' second straight, improved the team to 3-4 overall and 1-0 in Metro Atlantic Athletic Conference play while the Jaspers fell to 2-5 overall and 0-1 inn league action.
Canisius led 77-76 with 8.1 seconds left to play with Manhattan holding possession of the ball in their offensive end of the court. Out of a timeout, Manhattan's Zavier Turner dribbled down the right side of the floor where he was met by Canisius senior Phil Valenti. Valenti was able to knock the ball away from Turner, and Robertson grabbed the loose ball as the final horn sounded, allowing Canisius to earn just its eighth all-time win in Draddy Gymnasium.
Manhattan, which led by as many as 15 points in the second half, held a 60-50 lead over Canisius with 11:12 left to play in the game. From there, Canisius turned up the defensive effort and held the Jaspers to just three field goals in the final 10:58 of the contest. Canisius knotted the game at 67-67 with 4:02 left to play after Robertson drilled a 3-pointer from just in front of the Griffs' bench, and the Blue and Gold took the lead for good with 3:08 left on the clock on a tip-in by senior guard Kiefer Douse. Douse's bucket started a 6-0 run over the game's next 27 seconds, capped by a traditional thee-point play by Robertson with 2:41 left to play.
Valenti made a pair from the free-throw line with 32 seconds left to play that put Canisius up 77-74, but the Jaspers raced right down the floor and scored a quick bucket on a drive by Turner with 23 seconds remaining that made the contest a one-point game at 77-76. Canisius had a chance to go up three late, but missed a pair of tosses from the stripe, setting up Manhattan's last-second chance to win, which was muted by the defensive effort of Valenti and Robertson.
Crumpton finished the night with his career-high 26 points after he went 10-for-21 from the floor and 6-for-8 from the free-throw line. Robertson's five makes from 3-point range are a season high, while Douse ended the night with 10 points and a career-high six assists. Freshman Malik Johnson scored a career-high nine points to go with four assists for the Griffs, while Valenti added eight points, seven rebounds and three assists. Canisius shot 42.4 percent from the field, 50 percent from 3-point land and 71.4 percent from the free-throw line in the win.
Turner scored 19 points in the loss for the Jaspers, which turned the ball over 10 times in the game's second half. Junior Calvin Crawford came off the bench and chipped in 12 points and six rebounds for Manhattan, which shot 41.3 percent from the field, 36.4 percent from 3-point land and 72.7 percent from the charity stripe.
Head Coach Reggie Witherspoon's Postgame Comments
"I thought this was a tale of two halves, really. We came out strong and Manhattan really got after us in the first half and sped the game up on us. We needed to settle down and keep it simple. Once we settled down and made the extra passes, it opened some things up for us and we were able to get some open looks."
"We knew coming in that Manhattan's goal is to make you uncomfortable at both ends of the court. They did that to us a bit, especially in the first half. We got sloppy with the ball and turned it over, and when we didn't turn it over, we took quick shots. Once we made some adjustments and our guys settled down, I thought we did a nice job of handling their pressure."
"It is always good to get a road win, and it's really nice to get a league win on the road. Those are always hard to come by. We'll enjoy this tonight and a little bit tomorrow morning, but then we need to change gears and get refocused for Sunday because we play a really good team in Monmouth at their place."
Inside the Box Score
• The Griffs were credited with 18 assists on 25 made field goals in the win. Canisius started the game ranked eighth in the nation in assist-to-field goal ratio, according to kenpom.com.
• Manhattan out rebounded Canisius 40-39, but the Griffs were plus-6 in rebounds in the game's second half.
• Manhattan outscored Canisius 28-26 in the paint while holding a 39-4 advantage in bench points.
• The game featured two ties and six lead changes.
Game Notes
• This was the 89th all-time meeting between these two programs, with Manhattan leading the series 54-35.
• The Griffs' win at Draddy Gymnasium gives the Blue and Gold back-to-back wins in Manhattan's home building for the first time since the 1993-94 and 1994-95 seasons.
• Canisius improved to 14-14 all-time in MAAC openers with the win Friday. The Griffs extended their MAAC-opening win streak to five straight.
• Crumpton's 26 points on Friday marks his second 20-plus point game this season. Prior to this year, the Niagara Falls, New York native had a total of two 20-plus point efforts in his career.
• Robertson's five treys at Manhattan gives him 136 for his career, which ties him for 10th in school history with former Griffs Craig Wise and Greg Logins.
• Valenti's string of 13-straight games with double-digits in the scoring column came to an end with his eight point effort on Friday.
Up Next
Canisius will continue its four-game road swing at defending MAAC regular-season champion Monmouth on Sunday, Dec. 4. Game time is set for 2 p.m., and the contest will be broadcast live on ESPN3.