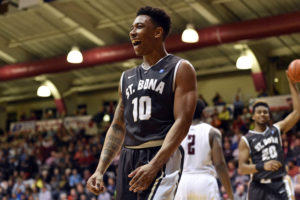 By PAUL GOTHAM
OLEAN, N.Y. — As far as first halves go, Wednesday night's will not be one St. Bonaventure's Jaylen Adams marks on the timeline of his playing career in brown and white. The second half, though, that's different.
Adams showed why he will be the one with the ball in his hands when Bona goes in search of a bucket during crunch time this season. Not that Reilly Center denizens needed a performance on the last day of November for reinforcement of this point.
Clinging to a one-point edge with less than 50 seconds remaining, Adams turned down a ball screen intended to get him to the right side of the key, drove the lane, drew contact and managed to get the pumpkin to the rim over a tangle of Siena defenders.  A converted free throw later, and the Bonnies were on their way to an 81-74 victory over the Saints.
"I just saw the lane," Adams said. "I thought I needed to attack and score. It dropped for me.
"They jumped to one side pretty early and just left the lane kinda open. Wasn't much thought."
The and-one came after an 11-point advantage Bonnie all but evaporated.
On their previous trip down the floor, Bona head coach Mark Schmidt called timeout with eight seconds remaining on the shot clock. Siena's Marquise Wright deflected the ensuing inbound and after a foot race, the Bonnies retained possession on their own end line 94 feet from the basket.
They failed to score, and Brett Bisping capped a 7-2 Siena run with a rebound and putback to cut the lead to one at 74-73.
"We found a way," Schmidt said. "It wasn't always pretty. We didn't play our best. We made the plays when we needed to make them."
After missing his first two field goal attempts of the second half and starting the game 5-of-13, Adams  hit four of his last five attempts. His three-point play in the final minute capped a game-high 27-point performance.
"We tried to trap him," Siena coach Jimmy Patsos explained of the game-winning play. "I said 'double team him, make someone else beat us.' Next thing I know he was coming down the lane…By the way, he went left. The guy is good."
Adams scored seven straight midway through the second half to give the Bonnies their largest lead of the night. He drove left for a layup. Then he went to his right for a pull up three-pointer at the top of key. His two free throws on the next trip down the floor made it a 63-52 game.
"He has good body control, Schmidt said of Adams. "He's strong. You need your better players to make plays in those situations. That's why their called your better players."
Adams got St. Bonaventure on the scoreboard to start setting up Denzel Gregg for a dunk off a high screen and roll. It was his only assist of a first half in which he finished with three turnovers (his season average). He dished four dimes without a mishandle in the second stanza.
"I had to feel the game out a little bit," Adams said. "I came out and had a few silly turnovers. Just had to calm down, let the game come to me. I was trying to force it a little bit. In the second half the shots were falling.
"I had the hot hand, and they just kept going to me."
Matt Mobley added 20 points for Bona hitting nine of 10 from the free throw line. David Andoh chipped in 13 on 5-of-10 shooting from the floor. Gregg registered his third straight double-double with 13 points and 10 rebounds.
Overall St. Bonaventure shot 27 for 67 including 4 of 16 from behind the three-point arc. The Bonnies committed 14 turnovers while collecting 11 assists. Siena out rebounded Bona, 43-41. SBU outscored Siena 23-18 at the free throw line.
Bisping paced Siena with 23 points and 13 boards. Marquis Wright added 18 points and five assists. Nico Clareth accounted for 12 points.
Keeping It Simple
Bona's Josh Ayeni finished with six points, two rebounds and a block in 28 minutes of work. If nothing else his two field goals (out of four attempts) are the product of a player knowing his role and filling it. The 6-8 freshman forward converted a rebound and putback early in the contest. His second came at the receiving end of a drive and dish from Adams. It was text book post work. Standing on the block, back to baseline, the native of Nigeria gathered the pumpkin, chinned it, made his pivot keeping the ball above his shoulders and going off the glass. Not official, but Ayeni might not have used a dribble last night at least not while the game clock was running. Is it possible the freshman has a "don't dribble directive?" His one turnover came during a flurry of action in the paint where he was stripped trying to get to the rim.

Don't Undersell Siena
The Saints fell to 2-5. Making Bona's single-digit win at home look less than spectacular until you consider Siena's schedule. All five of the Saints losses have come on the road including a two-point loss at George Washington – last year's NIT champion. Siena also fell at then No. 7/8 Kansas. A game in which the Saints trailed by five with less than eight minutes remaining. Kansas eventually won 86-65. They also fell to UNC-Asheville, a 2016 NCAA Tournament participant.
Up Next
Big 4 rival, the University at Buffalo Bulls (4-3) visit the Reilly Center on Saturday. Of the Bulls three setbacks two have come on the road to ranked opponents: 86-53 to then-No. 11 Xavier and 93-72 to No. 10 Creighton on Tuesday. UB has been accumulating the frequent flyer miles. The Bulls spent Thanksgiving in Anchorage at the Great Alaska Shootout. They beat Weber State on Saturday before heading to Omaha to meet the Bluejays earlier this week. Blake Hamilton paces UB with 18.8 points and 6.3 rebounds per game. Dontay Caruthers (East High) logs more than 21 minutes a game for UB scoring 3.7 while collecting 2.2 rebounds, 1.5 assists and 1.3 steals. A 4 p.m. tip is scheduled.