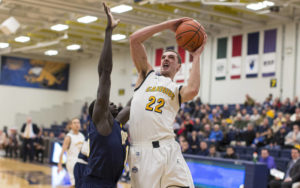 Courtesy of GoGriffs.com
YOUNGSTOWN, OHIO – Canisius junior guard Kassius Robertson scored a season-high 27 points to lead four Golden Griffins in double-figures as the Blue and Gold went on the road and defeated Youngstown State 90-84 Saturday afternoon in the Beeghly Center. The win snapped a two-game losing streak and improved the Griffs to 2-4 on the year, while the Penguins fell to 3-4 with the loss
The win for Canisius also stands as the 200th career victory for first-year head coach Reggie Witherspoon. In his 15th season as a Division I head coach, Witherspoon earned 198 career wins during his 14 years at Buffalo.
Robertson's 27 points were one shy of tying his career high, set Dec. 22, 2015 in a triple-overtime win over ULM. Senior Kiefer Douse scored a career-high 16 points in the victory, while junior Jermaine Crumpton and senior Phil Valenti added 12 and 11 points, respectively. Valenti also recorded a game-high 11 rebounds in the win for his first double-double of the season and the fifth in his career.
Youngstown State led 20-18 with 10:40 left in the first half, but Canisius took the lead for good 19 seconds later on a 3-pointer by freshman Isaiah Reese that gave the Griffs a 21-20 lead. Canisius led by as many as eight points at 39-31 with 1:30 left before halftime, and the Griffs went into the locker room holding a 41-35 advantage after the team shot 55.2 percent from the field in the game's first 20 minutes.
Canisius came out of the locker room and used a 10-4 run in the first 2:17 of the frame to take a 51-39 lead, capped by a lay-up by Valenti, which forced a Youngstown State timeout. The Griffs led by as many as 17 points at 76-59 with 8:44 left on the clock, but the Penguins were able to battle back and cut the Griffs' cushion to five at 84-79 with 2:00 left to play. Canisius was able to keep Youngstown State at arm's length down the stretch, as the Blue and Gold hit six-straight free-throws in the final 40 seconds, with freshman Malik Johnson draining the team's last four tosses from the stripe to seal the win.
Youngstown State guard Francisco Santiago had a team-high 23 points to go with 11 assists in the loss for the Penguins, while fellow guard Cameron Morse scored 15 points. Morse, who entered the game ranked eighth in the nation in scoring average at 25.2 points per game, went 6-for-20 from the field in the losing effort.
Head Coach Reggie Witherspoon's Postgame Comments
"In the first half, I thought [Youngstown State] did a really good job of switching defenses and it took us some time to find our rhythm offensively. As the game wore on, we settled down and got some good looks and we were able to take advantage of their zone a little bit."
"We still have a way to go offensively, but I think our guards did a really good job seeing open spaces and getting the ball into the paint by driving or with a pass. We are making some strides there in that regard, but I thought Kassius and Kiefer did a really good job of getting to the basket and getting the ball up on the rim."
"We knew coming in that [Cameron] Morse was a really good scorer and he can score quickly. I thought our guards, especially Kassius and Kiefer, did a really good job of not allowing him to get any easy catches. That allowed Santiago to get to the basket a bit, but our guys were up to the challenge of defending one of the country's best scorers and we were pretty locked in from start to finish."
Inside the Box Score
• Canisius out-rebounded Youngstown State by a 34-29 clip, the first time the Griffs have out-rebounded an opponent this season.
• The Griffs shot a season-high 52.5 percent from the field, while Youngstown State shot 53.2 percent from the floor.
• The Griffs outscored the Penguins 48-38 in the paint. The 48 points in the paint for the Griffs are a season high.
• Eight of the nine Canisius players that saw action in the contest scored, and all eight of those players had at least three points.
• Canisius turned 14 Youngstown State turnovers in 18 points, and the Blue and Gold ended the game with a season-high 22 second-chance points.
Game Notes
• This was the fifth all-time meeting between the two schools, and Canisius has won all five games.
• Saturday marked the first time four Canisius players have recorded 10-or more points in a game since Feb. 18, 2016 in a home loss to Fairfield.
• Robertson made four 3-pointers in the win, the 38th time in his career where he's made multiple treys in a game. Those four makes from long-range gives him 131 for his career, making him the 12th player in school history to make more than 130 baskets from 3-point land.
• Valenti's 11 points extends his streak of scoring double-figures to 13-straight games, dating back to last year.
• Johnson's four assists are a season-high for the freshman.
• Junior Selvedin Planincic was good for a career-high seven points to go with two blocks in the win. In the team's last two games, Planincic has recorded six blocked shots.
Up Next
Canisius will open MAAC play next weekend with a pair of road games, starting at Manhattan on Friday, Dec. 2. Game time in Riverdale, New York is set for 7 p.m.