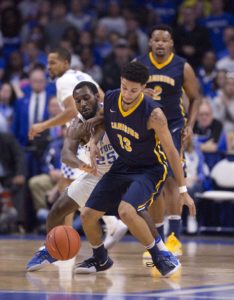 By PAUL GOTHAM
BUFFALO, N.Y. — Reggie Witherspoon looked down the sideline and saw in an opponent what he wants from his Canisius Golden Griffins.
For now, the first-year Canisius coach will have to settle on using the Tennessee State Tigers as an example to follow.
Wayne Martin and Jordan Reed led four in double figures, and Tennessee State took the lead midway through the first half and never looked back in a 72-58 win Wednesday night at the Koessler Athletic Center.
"We got taught a lesson about grinding it out, about blue-collar basketball," Witherspoon said after the Griffs' fourth loss of the season. "This was a team that exposed us when it came to that."
Seniors Martin (14 points, 14 rebounds) and Reed (13 points, 11 rebounds) paced Tennessee State which held Canisius without a field goal for eight-plus minutes as part of a 19-1 run to take a 40-27 lead into the locker room at half.
The Tigers, which host their home opener on Saturday, improved to 5-0 on the season.
"That's a good team we just played," Witherspoon stated. "We knew that coming in. They're an experienced bunch. They play extremely hard. They play unselfish. They defend. They really rebound."
Trailing by as many as six early in the contest, Tennessee State out rebounded Canisius 20-14 in the first half. The Tigers connected on four of eight 3-pointers during the first 20 minutes, while the Griffs attempted 17 shots from behind the arc hitting on five of those tries.
Tennessee State made 16 of 25 shots from the floor for the 13-point halftime advantage.
Tahjere McCall added 14 points, six assists and four steals for Tennessee State. McCall scored back-to-back buckets to give the Tigers their largest lead of the game. The redshirt senior hit a fall away jumper from the baseline and followed with a catch-and-shoot trey for a 38-22 Tiger advantage.
Reed's baseline drive kept the 16-point lead at 40-24.
"They just blew over us," Witherspoon added. "They all played hard. Our guys in their minds played hard. I'm not sure that they could imagine how hard they need to play right now. This team showed us how hard you will need to play. They played that hard the entire game…They fought for every loose ball. If we can learn from that, then maybe we can get better."
Tennessee State finished the game hitting 28 of 54 from the floor including 6 of 14 behind the arc. TSU converted 10 of 19 free-throw attempts.
Canisius connected on 19 of 54 field goals with several misses coming on layups from back-door attempts. The Griffs hit 8 of 25 three-point attempts and 12 of 25 from the charity stripe.
"Sometimes you're trying to get across to guys the importance of little things, but that's not what necessarily they want to think about," Witherspoon said referring to his players. "Free throws and layups go a long way, but it's not the most exciting element of the game sometimes for a player. We just got to keep working on it. We can't change from trying to get layups and free throws. We can't change from trying to block out. Hopefully, we learn from tonight, and our guys realize how important those little things are. Hopefully, we'll work at them, and try to get them better."
Freshman Isaiah Reese netted 13 second-half points to lead the Golden Griffins.
Phil Valenti scored 12 on 5-of-10 shooting from the floor. The Canisius senior has reached double figures in 12 straight games dating back to last season.
Delano Spencer scored a dozen for Tennessee State.
The Golden Griffins finished with 18 assists on 19 made field goals.
"We knew that their assist number would be high," Tennessee State head coach Dana Ford said. "We wanted to keep all their baskets off those assists and not the drives and lane to the basket, use our size and rotate and make things difficult."
Tennessee State outscored Canisius 36-16 in the paint including 11-2 on second-chance points.
Led by Reese, the Canisius bench outscored their counterparts, 22-21.
Canisius (1-4) plays at Youngstown State on Saturday. A noon tip is scheduled.