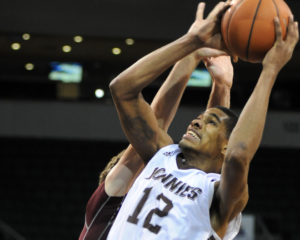 Courtesy of GoBonnies.com
St. Bonaventure more than made up for an opening night loss in the Lone Star Showcase, as the Bonnies cruised past Central Michigan 102-71 on Tuesday.
Facing a 4-0 team that was averaging 99 points per game, the Bonnies were the aggressors from the opening tip. St. Bonaventure opened up a 12-2 lead less than five minutes into the game. The Bonnies led the entire half and closed with a 13-5 run to take a 53-37 lead into halftime.
The second half began the same way the first half ended, as Denzel Gregg's tip-in capped a 12-2 start that pushed the Bona lead to 26 points at 65-39. Central Michigan missed 11 of its first 13 shots in the second half. The lead grew as large as 39 points as the Chippewas never threatened.
St. Bonaventure made 50 percent (35-70) of its shots in the game, was 25-35 at the free throw line and committed just nine turnovers with 18 assists.
Matt Mobley led five Bonnies in double figures with 28 points. Jaylen Adams finished with 17 points and nine assists, Idris Taqqee scored 15 points, Denzel Gregg had 12 and Josh Ayeni 10. Gregg snagged 10 rebounds for his second career double-double.
Central Michigan guard Marcus Keene, who entered the day tied for the Division I lead in scoring at 30 points per game, scored 23 points on 7-15 shooting and committed seven turnovers.
How It Happened:
St. Bonaventure opened aggressively and was rewarded. Idris Taqqee scored twice around a three-pointer by Jaylen Adams as the Bonnies built a 12-2 early lead.
Marcus Keene pulled Central Michigan within five at 14-9 and the game remained close through the middle of the first half.
It was a 28-24 Bona lead when Denzel Gregg sparked a 6-0 run with a pair of buckets that made it a 34-24 game.
Keene made it a 40-32 score but St. Bonaventure closed the half with a 13-5 surge to open a 53-37 lead at intermission.
Adams and Matt Mobley keyed a decisive, 12-2 run to open the second half. Adams had five points and one of his nine assists as the Bonnies pushed their lead to 65-39 by the 16:36 mark.
Central Michigan never came any closer from there as the lead grew to as many as 39 points.
The defensive effort was the Bonnies' best of the year as Central Michigan made just 39 percent of its shots overall including 6-28 (.214) from three-point range. The Chippewas were just 8-25 (32 percent) in the second half.
In all, nine players scored for the Bonnies.
Beyond The Boxscore:
The Bonnies' 102 points were the most they scored in a regulation game since a 104-83 win at Charlotte on March 2, 2013.
It was the first 100-point game for St. Bonaventure since a 100-97 overtime win at Duquesne on Jan. 22, 2015.
Denzel Gregg's other double-double was against Binghamton in the season opener last year.
Idris Taqqee's 15 points were his best of the year and four shy of his career high. He tied his career high with three assists.
Mobley's 28 points tied his season high set at Florida. He now has three 20-point games in his first four outings as a Bonnie.
Adams' nine assists are a season high. He also did not commit any turnovers.
Josh Ayeni tied his season high of 10 points and grabbed a season high six rebounds.
David Andoh and Amadi Ikpeze had their highest scoring games of the young season with seven and six points, respectively.
Up Next: The Bonnies will finish play in the Lone Star Showcase on Wednesday, facing Pepperdine on Wednesday at 6 p.m. ET.