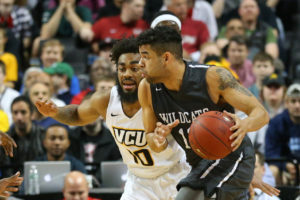 Courtesy of Atlantic10.com
NEWPORT NEWS, Va. – Davidson senior Jack Gibbs was named Atlantic 10 Men's Basketball Player of the Week while Massachusetts freshman DeJon Jarreau was selected as the league's Rookie of the Week. The awards, announced Monday and presented by Come Ready Nutrition, are for games played Nov. 14-21.
Gibbs, in his first games back from injury, averaged 23.7 points, 4.0 rebounds, 4.0 assists and 1.67 steals per game, while leading the Wildcats to a 2-1 record in the Tire Pros Invitational in Orlando, Fla. In addition to helping Davidson to wins over Missouri and Arizona State, Gibbs tied the three-game tournament record for points scored with 71. After an 18-point performance against Clemson, the point guard from Westerville, Ohio, scored 25 points against Mizzou and concluded the week with a 28 point, six rebound and four assist performance against the Sun Devils. Gibbs also made 81.3 percent of his free throws, including a 16-for-21 effort Sunday against Arizona State. He was named to the Tire Pros Invitational All-Tournament team.
Jarreau averaged 14.7 points, 5.7 assists and 4.7 rebounds per game during wins over Temple and Holy Cross and a loss at Ole Miss. The guard from New Orleans had a career day at Ole Miss with 25 points, the most by an A-10 freshman this season, along with eight boards and six assists. Jarreau was pivotal to the team's win over Temple, scoring a team-best 16 points, including nine in the second half. He scored five of his 16 points during the last 34 seconds of the game when the Minutemen turned a two-point deficit into a three-point win. Jarreau hit a right-side 3-pointer to give the Minutemen the lead before he scored a fast break layup with seven seconds to seal the win. Click here to see the weekly honor roll.
Around the A-10:
No. 21 URI rallies to upend No. 24 Cincinnati
By BILL KOCH/PROVIDENCE JOURNAL
UNCASVILLE, Conn. — For just the second time in program history, the University of Rhode Island has won back-to-back games against ranked teams.
This marks just the third time (1997-98, 2007-08) #URI has appeared inside the AP top-25 for three straight weeks. Poll began in 1949. #Rams https://t.co/FwWTWg1IVA

— Bill Koch (@BillKoch25) November 21, 2016
No. 21 URI's 76-71 victory over No. 24 Cincinnati in the Hall of Fame Tip-Off Tournament at Mohegan Sun Arena carried with it all the hallmarks of a team coached by Dan Hurley — grit, toughness and resilience. READ MORE.

Video Courtesy of Atlantic.com.
Cooke, Smith lead UD past Alabama
TUSCALOOSA, Ala. – Scoochie Smith scored 20 points and Charles Cooke added a double-double as the Dayton Flyers earned a hard fought 77-72 win against the Alabama Crimson Tide. READ MORE.
Video courtesy of Dayton Athletics.
UMass closes out Temple, 70-67
AMHERST, Mass. – University of Massachusetts men's basketball scored the final five points – all by freshman guard DeJon Jarreau – as the Minutemen took a 70-67 victory from the Temple at the Mullins Center on Thursday. Jarreau finished with a team-high 16 points while Donte Clark (14) and Rashaan Holloway (11) also reached double-figures. READ MORE.

Video courtesy of UMass Athletics.
Freshmen spark VCU in blowout
Freshman De'Riante Jenkins erupted for his first career double-double and VCU held Binghamton to 28-percent shooting on the way to a lopsided win Friday night at the E.J. Wade Arena. READ MORE.
Video courtesy of VCU Athletics.
Fordham takes Johnny Bach Classic
Bronx, N.Y. – The last time Fordham accomplished what they accomplished today none of the current players were born and head coach Jeff Neubauer was in high school. The feat in question is the last time the Rams won an in-season tournament. That changed today as Fordham defeated Lipscomb University, 85-69, on day three of the Johnny Bach Classic to finish the tournament with a perfect 3-0 record. READ MORE…
Video courtesy of Fordham Athletics. 
Balanced contributions pace Richmond over Robert Morris
UNIVERSITY OF RICHMOND, Va. – Four players scored in double figures and the Spider bench tallied 23 points as Richmond (2-1) won a 81-69 decision over Robert Morris (0-4) on Sunday afternoon in the home-hosted portion of the Barclays Center Classic. READ MORE.
Video courtesy of Richmond Athletics.
Bonnies fall short at Florida
St. Bonaventure overcame a 15-point second half deficit but could not solve Florida in the closing minutes, falling 73-66 to the Gators on Thursday at Lakeland Center. READ MORE.
Video courtesy of St. Bonaventure Athletics.
La Salle falls on buzzer beater
PHILADELPHIA – A buzzer-beating three-pointer from Texas Southern guard Dulani Robinson lifted the Tigers a 77-76 victory over the La Salle men's basketball team on Saturday afternoon at Gola Arena. Junior B.J. Johnson led the Explorers with 24 points while senior Cleon Roberts came off the bench to score 16 points on a perfect 6-for-6 from the floor. READ MORE.
Video courtesy of La Salle athletics.
Duquesne falls in closing seconds
PITTSBURGH – Phil Valenti hit a pair of shots in the final 14 seconds – the second the game-winner with :01.9 on the clock – to give Canisius a 78-77 win over Duquesne at the Palumbo Center. READ MORE.
Video courtesy of Duquesne Athletics.
Second-half rally propel Saint Louis
Senior forward Reggie Agbeko and junior guard Davell Roby led the way for Saint Louis with 18 points apiece. Freshman forward Elliott Welmer scored 15 points, while sophomore guard Jermaine Bishop added 14 points and posted a career-high eight assists. READ MORE.
Video courtesy of Saint Louis Athletics.