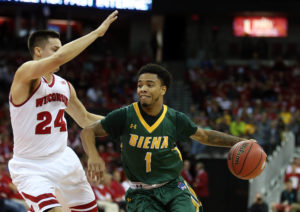 Courtesy of MAACSports.com
Player of the Week
Marquis Wright, Siena
Sr., 6-1, G, Waldorf, MD/North Point
On an afternoon where he scored his milestone 1,000th career point, Wright dazzled with a career-high tying 31-point effort to lead Siena to an 89-78 season opening win over Cornell Sunday. Wright shot 9-18 from the field and 4-8 from distance. The Saints' floor general added five assists without a turnover, and also grabbed five rebounds in 38 spectacular minutes.
Rookie of the Week
Stevie Jordan, Rider
Fr., 5-10, G, Bensalem, PA/Conwell-Egan/API
Jordan had a team-high 14 points, five assists, three rebounds and two blocks in his collegiate debut, a 67-56 victory at two-time defending MEAC Champion Hampton. He was 5-of-10 from the floor and 4-of-7 from the free-throw line in 31 minutes.