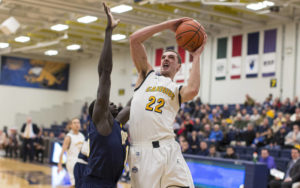 By PAUL GOTHAM
Phil Valenti never pictured himself on a stage like Rupp Arena. Now he can't get it out of his mind.
Valenti will lead Canisius into its 113th season when the Golden Griffins take the court Sunday night against the No. 2/4 Kentucky Wildcats. It's a chance for the Victor, New York native to seize an opportunity.
"I never envisioned it," Valenti said Thursday prior to practice. "I envision it every day now. Can't wait for it. I love playing in front of big crowds."
But the 6-7 forward also understands the importance of the game beyond himself.
"It's a chance to show that we can play with anybody," Valenti said motioning to his younger teammates on the practice floor. "It's just another time for these guys to get put on a big stage and show what they can do. That's what I'm excited for letting these younger guys see what it's like and getting their feet wet. It's going to be cool."
Valenti is the Griffs leading returner in points (14.6), rebounds (6.1) and assists (2.0). But his head coach  sees the fifth-year senior's contributions beyond the numbers.
"Phil has been around the college game long enough that he's going hard all the time," first-year Canisius coach Reggie Witherspoon stated. "He's not thinking about what he's doing. He's just instinctively playing. That's really what we are going to need our team to do."
Per KenPom, Valenti finished ninth in the Metro Atlantic Athletic Conference last season with a defensive rebounding percentage (the numbers of rebounds grabbed versus available opportunities while on the court) of 18.4. His offensive rebounding percentage of 6.9 was good for 22nd in the MAAC.
"The only way you can do that is if you're not thinking," Witherspoon aded. "It's very difficult to play with a lot of intensity if you're thinking about what you do before you do it. Most times it's too late if you do that.
"Phil is going to go right at you. He's not going to back down. Every time he has success doing that, it reinforces the notion 'guys we have to play hard. We have to play harder.' That's a tremendous value to have."
Valenti has been around long enough to impress three coaches at Canisius. He was recruited out of Aquinas Institute in Rochester, New York by then head coach Tom Parrotta. Valenti never played for Parrotta. Instead Jim Baron took over when Parrotta was dismissed. Valenti redshirted his first year on campus before playing three years under Baron who retired at the end of last season.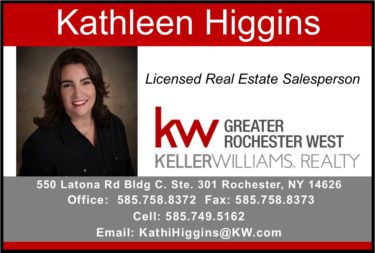 "It's really a learning experience, learning how to adapt," Valenti said. "That's the world we live in today. You got to adapt to different things. Being able to adapt like that has really taught me how to be a better person, be a leader."
Valenti wasted no time adjusting to Witherspoon.
"He's a knowledgeable guy," Valenti said of the Buffalo native who has coached at Erie Community College and the University at Buffalo. "He's a smart guy. He loves basketball, and he loves us. It really helps when you got a guy who really cares about his players."
Canisius and Kentucky tipoff at 6 pm. The game will be televised on ESPN2.
Something In The Water
Valenti is one of three from his graduating class at Aquinas making an impact in Division I athletics. Jarron Jones is starting defensive end for the University of Notre Dame Fightin' Irish football team, and Jahmahl Pardner plays defensive back for the University of Memphis Tigers.
"They're making big plays on big stages," Valenti said of his classmates. "I still talk to those guys. That's how it is there (Aquinas). It's a family."
Reppin' Section Five
Valenti is also one of nine former (with more on the way) Section V standouts playing at the DI level along with Antwoine Anderson (Fordham/Bishop Kearney), Thomas Bryant (Indiana University/Bishop Kearney), Dontay Caruthers (University at Buffalo/East), Emmitt Holt (Providence College/Webster Schroeder), Anthony Lamb (University of Vermont/Greece Athena), Deyshonee Much (Iona College/ Gates-Chili), Chinonso Obokoh (St. Bonaventure University/Bishop Kearney) and Quinton Rose (Temple University/Bishop Kearney). University of Dayton coach Archie Miller recently announced Nahziah Carter (Bishop Kearney) will attend UD in the fall of 2017.