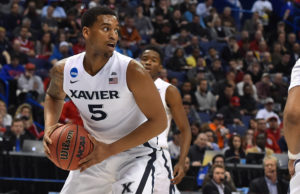 Courtesy of GoXavier.com
CINCINNATI — The Atlanta Tipoff Club has announced the watch list of 50 players in consideration for the 2017 Naismith Men's College Player of the Year and the list includes a pair of Xavier Musketeers, junior guard Trevon Bluiett and sophomore guard Edmond Sumner. The mid-season list of 30 will be announced February 9. This marks the first time Xavier has placed two players on the Naismith preseason watch list.
Earlier this week Bluiett and Sumner were listed on the Lute Olson Award Preseason Watch List (collegeinsider.com). The Lute Olson Award is presented annually to the nation's top Division I player who has played at least two seasons. Both Bluiett and Sumner were also named 2016-17 preseason First Team All-BIG EAST back in October at BIG EAST Media Day.
Bluiett, a 2015-16 USA Today Third Team All-American and 2015-16 BIG EAST First Team selection, led Xavier in scoring at 15.1 ppg. last season and is the team's leading returning rebounder at 6.1 ppg. Sumner, a unanimous selection to the 2015-16 BIG EAST All-Freshman Team and a 2015-16 Kyle Macy Freshman All-American (collegeinsider.com), averaged 11.0 points and 3.6 assists last season.
Xavier hosts Lehigh on Friday night at 7 p.m. on Opening Night at Cintas Center.