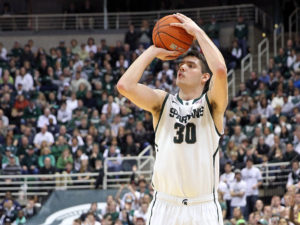 Originally published in USA Today Sports Weekly's College Basketball Season Preview issue
By AARON MANSFIELD
With three double-digit scorers returning, Ohio is the early favorite to claim this year's Mid-American Conference title.
Senior forward Antonio Campbell, a four-year contributor, leads Saul Phillips' squad. Campbell averaged 17.1 points, 10.2 rebounds, and 1.8 blocks last year. He made the All-MAC First Team.
Campbell will get help from sweet-shooting forward Kenny Kaminski (12.6 ppg), the Michigan State transfer, and Jaaron Simmons (15.5 ppg), a Houston transfer who surprised some people last season.
The East will not be easy for Ohio. Two-time defending conference champion Buffalo is a formidable contender, and would be the favorite if point guard Lamonte Bearden had not transferred to Western Kentucky.
The Bulls, led by coach Nate Oats, who signed a new five-year contract after last season, are loaded. While Blake Hamilton will be the go-to option early on, look for sophomores Nick Perkins (7.6 ppg) and C.J. Massinburg (11.3 ppg) to break out in their bigger roles this year.
Akron is another team that should contend for the East. Keith Dambrot brings back speedy, 5-11 guard Antino Jackson (11.8 ppg) and bruising center Isaiah "Big Dog" Johnson (13.6 ppg). The progression of junior Noah Robotham (9.7 ppg) will be pivotal to the Zips' success.
Eastern Michigan looks poised for a breakthrough year, with reigning MAC Freshman of the Year James Thompson IV (14.8 ppg) in the post and Raven Lee (15.1 ppg) and Willie Mangum (12 ppg) in the backcourt.
Northern Illinois is an intriguing team. After making the fourth postseason appearance in school history last year, the Huskies return Marin Maric (11.9 ppg) and Marshawn Wilson (11.0 ppg), a talented sophomore guard who will command more attention this year.
Jimmy Hall (16.4 ppg) tested the NBA waters before deciding to return to Kent State. The 6-8 senior should be a player of the year candidate.
Ball State lost only two key rotation players from last year's team that claimed the MAC West. Wing Franko House (12.2 ppg) should be the leader in his senior year.
Jonathan Williams (17.6 ppg) has been one of the MAC's most gifted guards since his freshman year. Now a senior, Williams leads a Toledo squad with seven newcomers.
Central Michigan is led by a pair of excellent senior guards, Braylon Rayson (16.3 ppg) and Rayshawn Simmons (12.1), despite losing the excellent Chris Fowler.
Zack Denny (10.6 ppg) leads Bowling Green.
Western Michigan went deep into its bench last year, which should benefit the Broncos this season. Thomas Wilder (18.0 ppg) is among the conference's most prolific scorers.
John Cooper will have a tough task this year. Miami Ohio's roster is filled with youth, with no seniors and seven freshmen. The top returner, Abdoulaye Harouna, averaged 5.4 ppg last year.
Projected Order of Finish
East
Ohio (23-12, 11-7)
Buffalo (20-15, 10-8)
Akron (26-9, 13-5)
Kent State (19-13, 10-8)
Miami (12-20, 6-12)
Bowling Green (16-18, 5-13)
West
Eastern Michigan (18-15, 9-9)
Northern Illinois (20-13, 9-9)
 Ball State             (21-14, 10-8)
Central Michigan (17-16, 10-8)
Toled0                     (17-15, 8-10)
Western Michigan (13-19, 7-11)
*2015-16 records in parentheses.
PLAYER OF THE YEAR
Antonio Campbell, F, Ohio
ROOKIE OF THE YEAR
Davonta Jordan, G, Buffalo
All-Conference Teams
First team
Jaaron Simmons, G 6-1, 175 Jr., Ohio
Blake Hamilton, F 6-6, 205 Sr., Buffalo
Antonio Campbell, C 6-8, 260 Sr., Ohio
Isaiah Johnson, C 6-10, 290 Sr., Akron
James Thompson IV, C 6-10, 220 So., Eastern Michigan
Second Team
Thomas Wilder, G 6-3, 185 Jr., Western Michigan
Braylon Rayson, G 5-9, 185 Sr., Central Michigan
Jonathan Williams, G 6-3, 180 Sr., Toledo
C.J. Massinburg, G 6-3, 170 So., Buffalo
Franko House, F 6-6, 234 Sr., Ball State
Don't-Miss Games
Eastern Michigan at Ohio
Jan. 14: With tons of talent coming back, Eastern Michigan and Ohio look like the favorites in the West and East, respectively. This should be a great big-man matchup between James Thompson IV and Antonio Campbell.
Buffalo at Akron
Jan. 28: Last year, Akron was the No. 1 seed in the MAC Tournament. A last-second Blake Hamilton 3-pointer gave Buffalo a 64-61 win in the title game. Keith Dambrot's squad fell to Ohio State in the NIT, while Buffalo lost to Miami in the NCAA Tournament.
Buffalo at Ohio
Feb. 28: This late-season game could decide the MAC East. Both teams have high-powered offenses. Last year, Ohio had the No. 1 offense in the MAC, while Buffalo had No. 3. What happens behind the 3-point line will likely be the difference.
Rating the Recruits
Miami (Ohio): Darius Harper (6-8, 295) has good footwork. He also received college football offers. Precious Ayah (6-7, 210) is a fundamental big man with promising passing ability. On the wing, the RedHawks added a pair of twins, Marcus (6-5, 195) and Michael (6-2, 161) Weathers.
Buffalo: The Bulls had a roster spot open up in mid-July. They snagged strong point guard Davonta Jordan (6-2, 185) of Montverde Academy, one of the best unsigned players in the country. Two forwards with different skillsets, the springy Quate McKinzie (6-8, 210) and bruising Brock Bertram (6-11, 240), are nice additions to UB's post game.
Ball State: Kyle Mallers (6-7, 190) and Zach Hollywood (6-9, 185) are both bigs who are most comfortable beyond the arc. They could be zone breakers.