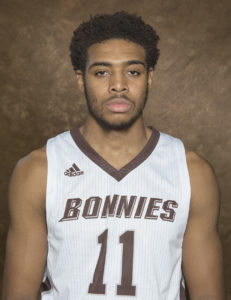 Courtesy of GoBonnies.com
St. Bonaventure junior forward Courtney Stockard will miss the 2016-17 season due to a foot injury.
Stockard underwent surgery Monday on his right foot. The injury is similar to the one which caused him to miss all of last season.
"Everyone in our program feels terribly for Courtney," said St. Bonaventure coach Mark Schmidt. "He had worked very hard to come back from last year's injury, and I know he will again this time. We'll support him in every way we can."
A 6-6 forward from St. Louis, Stockard spent two seasons at Allen (Kansas) Community College prior to enrolling at St. Bonaventure. Stockard averaged 23.2 points per game for Allen in 2014-15.
St. Bonaventure opens the season Nov. 12 against St. Francis at the Reilly Center.