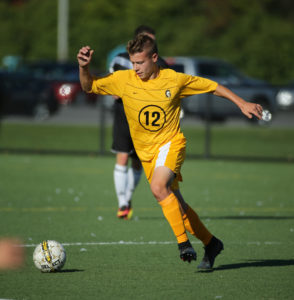 By PAUL GOTHAM
ROCHESTER, N.Y. — Anthony Paris knows a thing or two about winning championships. Less than 24 hours after celebrating a third straight title with his former high school teammates, Paris led his current team to its own trio of consecutive crowns.
Paris found back of the net twice in the second half to earn game MVP honors, and the Monroe Community College men's soccer team claimed the Region 3 D-I championship with a 5-0 victory over Mercyhurst NE on John L. DiMarco Field.
Paris connected on goals five minutes apart early in the second half as the Tribunes claimed their third straight regional title and 18th overall.
"It's pretty important to be honest," Paris said of the championship victory. "I've been playing this game ever since I was a little kid. That's all I've wanted to do is win championships. Didn't really have much success in my early teenage years. Been training, been practicing."
The freshman midfielder one-timed a cross from Ryan Gray in the box for a 1-0 lead in the 52nd minute. Less than three minutes later, he nodded home a corner from Adrian Minott.
"I was making my run, and I realized I was early," Paris explained.  "I stopped at the penalty spot. Got a flick on it with the back of my head and just tried to get it on net."
The goals opened up a game for Monroe after 50 minutes of frustration.
Three weeks after dismantling Mercyhurst NE, 6-0 – a game which the Tribunes led 4-0 at half – the Saints came out in a defensive shell with all 11 players between the ball and goal. The alignment stalled Monroe's offense.

"You can dominate, and we did," 26-year head coach Nelson Cupello said. "We had possession, but we didn't put the ball in the net.
"We were playing too slow in the back getting one, two, three, four touches and going across square instead of some penetrating passes and getting in behind them. We've got speed. We've got the guys who can get behind the defense. We needed to get a ball in back there."
In the previous meeting, Monroe peppered 48 shots – 23 on the Mercyhurst net. For the first 45 minutes on Saturday, the Tribunes managed just five shots on net. Mercyhurst had just one shot at half.
"It was kind of frustrating," Paris commented. "We basically had them the whole half. We were in their end pretty much the whole 45. We were trying to break through that, and we couldn't. In the second half we got numbers forward. We started playing out wide a little bit more. That's how goals happen."
Thirteen minutes after Paris connected on his second tally, Niko Nitti led Vasbert Harry past the Mercyhurst back line for a 3-0 advantage. The Tribunes never looked back from there.
"It felt really good to break that seal," said Paris. "After that it got the offense going.
"We were playing wide in the first half. We were moving and swinging along the back and everything, but we just couldn't get good enough chances. We had to get numbers up because they were packing behind it."
Matt Englert one-timed a cross from Samuel Jiggins to make it a 4-0 game and added a breakaway goal in the 90th minute for the final margin.
"They did what they had to do," Cupello said of his players. "They picked it up."
Marco De Lauri made one save for the clean sheet.
The Tribunes advance to the Northeast District Division I championship next Saturday. Times and opponents are to be announced.
"Now it gets tougher," Cupello said. "Everyone is healthy thank God. We'll see how we go next week. It will be a good test for us. You come out of the Districts, out of this area and you can do well in the national tournament. We've got as good a chance as everyone. I want a shot at the number one team in the country, and that would be in the finals of the districts against Monroe College. Hopefully, we'll get there."
As a junior in high school, Paris was part of a Greece Athena Trojans squad which won the 2014 New York State Class A championship. Paris and Athena won the 2015 Section Five Class A1 title. Friday night, the Trojans knocked off crosstown rival Greece Arcadia for a third straight sectional title.
Paris was one of more than a dozen former players who returned on Friday night to watch their former school.
"That was huge," Paris said of his former teammates winning another championship. "It was a fun game to watch."
"When you win like we have for three years obviously that can create some excitement and that's what you get," Athena head coach Mike Butler said after Friday's championship win. "The first kids that were here they all come back. They come to a lot of games…They get just as excited about it. That's a nice thing."