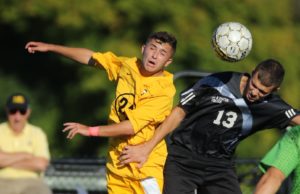 By PAUL GOTHAM
ROCHESTER, N.Y. — Philosophy and an adjusted alignment paid immediate dividends. Three days after suffering a one-sided defeat, the Monroe Community College men's soccer team turned the tables on a regional foe.
Five different Tribunes tallied en route to a resounding 6-0 victory over the Mercyhurst NE Saints in Region 3 action, Saturday on John L. DiMarco Field.
Monroe came out in a two-back set and went on the attack with four forwards from the opening kickoff.
"We wanted that as a little bit of a confidence builder for our guys," MCC head coach Nelson Cupello said of the attacking alignment. "Especially how we played the other day."
Monroe earned eight corner kicks in the first half and 17 for the match. Toronto, Ontario natives Julian MacDonald and Vince Mauro combined to convert MCC's fourth attempt when Mauro headed home MacDonald's cross in the 24th minute.
"We've been working on set pieces since pre-season," Mauro said. "I never thought being 5-6 that I'd be the guy scoring the header off a perfect set piece served up by Julian. Knowing that he was going to swing that ball I just knew where I was going to go."
Going with his left foot from the right side, MacDonald was able to set up his teammate.
"He was standing near post," MacDonald said of his teammate. "He's usually flicking on the ball regardless, so I just tried to get him to flick it in behind him, and it went in. It was a good goal."

Cupello sent in his first substitutions of the game with little more than 16 minutes remaining in the first half. All three found the back of the net.
"I wasn't happy with how we were playing," the 27th-year coach said.  "We were taking too long to go forward with the ball. We had to make a change. We had to insert some guys."
Six minutes later, Ahmed Eissa gathered the rebound from teammate Mark-Vincent Sansone's attempt and scored from inside the 18-yard box.
Niko Nitti finished an impressive sequence to make it a 3-0 game. Samuel Jiggins dribbled into space along the right wing and sent a cross to far post where David DeBellis was there with a header. Nitti met a clearing attempt with a header of his own for his team-leading sixth goal of the season.
Jiggins capped the stanza's scoring when he went near post from inside the six.
"We told them what we wanted them to do, and they went in and did it," Cupello noted. "[Mercyhurst] was packing it in. We were just playing side-to-side. I needed to make a change to talk to the guys our midfielders because they weren't doing what we wanted them.
"Once we got a goal or two you could see how everybody's confidence grew. They did exactly what we wanted them to do, play a quicker game and move it up the field. I'm pleased."
Vasbert Harry added to the lead in the 62nd minute. Lucas Egan assisted on the play.
Matt Englert led Jiggins for his second goal of the game and the final count of 6-0.
In Wednesday's 5-0 loss to Bryant & Stratton, the Tribunes managed just six shots on net in the loss. Saturday, the black and gold took 48 shots – 23 on frame.
"We had a long practice on Thursday," Cupello noted. "Long in the sense that we sat down and we talked. We played for about a half hour and that was it. An hour and a half was just talking about, yeah we played a team on Wednesday that's much better than us. But why aren't we playing well?
"We kinda had a philosophical discussion throughout the team. I let them speak their mind. It's not always about us as coaches saying things. All you guys kinda have to take a stake in this. A lot of guys spoke up about some of the things they thought would should be doing or shouldn't be doing. It was good for us. Some of the guys played really well today."
"Communication was obviously a big part of that," MacDonald stated. "Everybody just said we're getting on everyone's back when we make a mistake. There's no really any positive feedback coming from anybody. Today there was a lot more communication happening on the field."
Monroe and Bryant & Stratton met for the Region 3 championship every year from 1998 through 2013 with both teams taking eight of the contests.
"We played an outstanding team on Wednesday," Cupello commented. "I told them this is the type of team that we'll be playing beyond our regional. I wanted them to understand going to New York City in the District, Monroe College is going to be like what we played Wednesday. The sophomores know this is it. This is the caliber. We need to step it up. Hopefully, the freshmen are in tune and they're picking it up. It will be tough to go down to New York City and win."
With the win MCC clinched home-field advantage in the Region 3 championship later this month. Monroe will host the Division I Region 3 championship on Saturday, October 29th.
"It's very important," Mauro said. "We loving having fans. They bring positive energy to us as well. The louder they are, the more energy we have.
Mercyhurst NE's Jason Marczak made 17 saves in the match.
Marco DeLauri, Daniel Tobin and Zach Mandara combined for the clean sheet.
Monroe improved to 6-4-1 on the season. The Tribunes travel to play the Roberts Wesleyan JV on Wednesday. Kickoff is scheduled for 6 p.m.