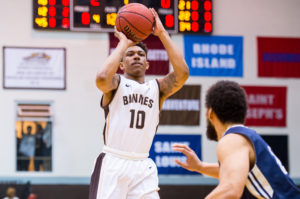 Courtesy of GoBonnies.com
Without the 2016-17 season even starting yet, St. Bonaventure junior Jaylen Adams continues to earn numerous accolades from college basketball media.
Entering his third season as the Bonnies' point guard, Adams has received recognition from the coaches and media within the Atlantic 10 Conference as well as national media and websites. To date, Adams' awards include:
– Listed "Also Considered" by Sports Illustrated in its list of preseason national player of the year candidates
– Fifth-ranked point guard by Lindy's college basketball magazine
– Atlantic 10 Conference preseason All-Conference first team
– No. 2 on A10Talk.com's list of the top players in the conference
– No. 13 on American Sports Network's list of the top 100 players the network covers
– Big 4 preseason Player of the Year
The Baltimore, Md., native, is the leading returning scorer for St. Bonaventure. Last season, Adams was named to the All-Atlantic 10 first team and to the National Association of Basketball Coaches All-District 4 second team. He tied for eighth in the Atlantic 10 in scoring at 17.9 points per game, led the A-10 in three-point field goal percentage (.438) and finished fourth in free throw percentage (.874). Adams also averaged 5.0 assists and 3.7 rebounds per game. His .438 three-point percentage is the second-best mark in school history.
Adams helped lead St. Bonaventure to a share of the A-10 regular season title with a 14-4 mark.
After last season, Sports Illustrated named Adams one of its most surprising players of the 2015-16 season. In July, Adams attended the adidas Nations camp in Los Angeles, a prestigious event for a select group of top players.
_________
St. Bonaventure basketball tickets are available via GoBonnies.com/tickets; by calling (716) 375-2500 or in person at the St. Bonaventure ticket office in the Reilly Center between 9 a.m. and 4 p.m.