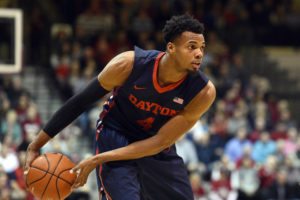 Courtesy of Atlantic10.com
PITTSBURGH — Dayton has been picked as the 2016-17 Atlantic 10 Conference favorite in the league's annual men's basketball preseason poll. The conference announced the poll and preseason all-conference awards Tuesday in conjunction with its annual Media Day, held at PPG PAINTS Arena, home of the 2017 Atlantic 10 Men's Basketball Championship. The awards and poll were chosen by a panel of the league's head coaches and select media members.
The Flyers, which tied for the regular season title in 2015-16, garnered 16 first-place votes and 374 points in the poll. Led by Preseason All-Conference selections Charles Cooke and Scoochie Smith, Dayton finished 25-8 overall last year and 14-4 in the A-10. Coach Archie Miller has led UD to three appearances and five wins in the NCAA Tournament in the last three years.
Rhode Island is just behind the Flyers in the 2016-17 Preseason Poll. The Rams totaled 370 points, including 12 first-place votes. Slowed by injuries in 2015-16, Rhode Island finished at 17-15 overall and 9-9 in conference play. But the Rams return the tandem of E.C. Matthews and Hassan Martin, both Preseason All-Conference Team members who helped Rhody to a second place finish in 2014-15.
VCU, the 2016 Atlantic 10 Championship runner-up, is third with 340 total points. Preseason selections Mo Alie-Cox and JeQuan Lewis lead a core of returning players that tied Dayton and St. Bonaventure for first place in 2015-16 with a 14-4 league record in the Atlantic 10 and 25-11 overall, earning an at-large bid to the NCAA Tournament.
Davidson garnered 302 poll points to rank fourth, followed by 2015-16 regular season co-champion St. Bonaventure, which had 246 points for fifth place. Richmond was sixth with 236 points and La Salle received 234 points to finish seventh in the voting.
2016 NIT Champion George Washington (195 points), 2016 A-10 Champion Saint Joseph's (161 points) and Massachusetts (147 points) finished eighth, ninth and 10th in the poll. Fordham, George Mason, Duquesne and Saint Louis rounded out the preseason rankings, respectively.
Jack Gibbs of Davidson, Tyler Cavanaugh of George Washington, Richmond's T.J. Cline and St. Bonaventure's Jaylen Adams join Cooke (Dayton) on the Preseason All-Conference First Team. La Salle's Jordan Price was selected to the Preseason Second Team All-Conference along with Smith (Dayton), Martin (Rhode Island), Matthews (Rhode Island) and Alie-Cox (VCU).
Davidson's Peyton Aldridge, 2015-16 Rookie of the Year Joseph Chartouny of Fordham, Donte Clark of UMass, Richmond's ShawnDre' Jones and Lewis (VCU) were all named to the Preseason All-Conference Third Team. Cooke (Dayton) and his teammate Kyle Davis, Martin (Rhode Island), Alie-Cox (VCU) and Lewis (VCU) are all on the Preseason All-Defensive Team.
The 2016-17 men's basketball season tips off on Friday, Nov. 11. Atlantic 10 Conference play begins on Friday, December 30. The season will culminate with the 2017 Atlantic 10 Men's Basketball Championship, which will be played at Pittsburgh's PPG PAINTS Arena. All 13 games of the five-day tournament will be nationally televised. The league's premiere event will begin Wednesday, March 8 and the league will crown its 2017 champion on March 12, Selection Sunday.
All session ticket books are on sale now through Ticketmaster and the PPG PAINTS Arena box office.