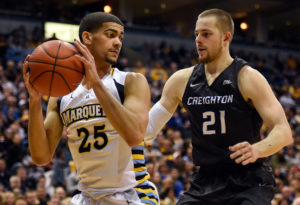 Courtesy of NAVYSports.com
ANNAPOLIS, Md. – The 2016 Veterans Classic presented by Northwestern Mutual will be played four weeks from today on Friday, November 11 in Alumni Hall. Vanderbilt will play Marquette at 6:30 PM, followed by Ohio State at Navy at 9:00 PM. This year's Veterans Classic will be played on Veterans Day. Below are team outlooks for each of the four participated schools.
Marquette Golden Eagles
Third-year head coach Steve Wojciechowski will bring his Marquette Golden Eagles to play in the opening game of the 2016 Veterans Classic.
Wojciechowski grew up in nearby Severna Park and played high school basketball at Cardinal Gibbons in Baltimore. The Veterans Classic will mark Wojciechowski's first game as a head coach in his home state of Maryland.
Marquette will be without the services of Henry Ellenson, who was drafted in the first round by the Detroit Pistons after averaging 17.0 points and 9.7 rebounds as a freshman last season.
Senior center Luke Fischer is Marquette's leading returning scorer (12.1 ppg) and sophomore guard Haanif Cheatham returns after averaging 11.8 points. Sophomore guard Traci Carter dished out 4.6 assists per game last year.
High-scoring guard Andrew Rowsey is eligible after sitting out the 2015-16 season after transferring into the program. A former standout at UNC Asheville, Rowsey averaged 20.3 points as a freshman and 19.2 points as a sophomore.
The Golden Eagles were 20-13 overall in 2015-16 and 8-10 in the Big East.
Vanderbilt Commodores
Bryce Drew enters his first season at Vanderbilt after spending the past five years as the head coach of Valparaiso. While at Valparaiso, Drew amassed a 124-49 coaching record and a .717 winning percentage.
Drew takes over a Vanderbilt program that was 19-14 last season and 11-7 in the SEC. Vanderbilt lost to Wichita State in the NCAA First Four last March.
Vanderbilt had two players chosen in the first round of the NBA Draft after leaving school early last year. Wade Baldwin IV was chosen by the Memphis Grizzlies and Damian Jones was drafted by the Golden State Warriors.
Junior guard Matthew Fisher-Davis is the team's leading returning scorer (9.7) and 3-pointer shooter (45 pct.). Senior center Luke Kornet returns after averaging 8.9 points, 7.3 rebounds and 3.0 blocks and junior forward Jeff Roberson is also back after averaging 9.3 points in 2015-16.
Vanderbilt follows Tennessee and Florida as the third SEC program to compete in the Veterans Classic.
Navy Midshipmen
Head coach Ed DeChellis increased Navy's overall win total for the fourth straight year in 2015-16 with an overall record of 19-14. The 19 wins was Navy's highest win total in seven years and the Mids also set a program record for most road wins in a season with 11.
Navy graduated two All-Patriot League performers last spring in center Will Kelly and point guard Tilman Dunbar. Kelly was named the Patriot League Defensive Player of the Year and was also selected to the all-league second team and the all-defensive team. Dunbar was named to the All-Patriot League Third Team.
Navy returns two starters in juniors Shawn Anderson and Tom Lacey. Anderson led the team in scoring with 13.2 points per game last season. Navy returns two 3-point specialists in seniors Zach Fong and Tim Abruzzo, while senior center Edward Alade has seen action in 88 career games.
Navy's defensive efforts were a key to the team's success last season, as the Mids led the Patriot League in scoring defense (64.7) and field goal percentage defense (.413).
Ohio State Buckeyes
After a trip to the NIT broke a run of seven-straight NCAA Tournament appearances last spring, 13th-year head coach Thad Matta is expecting a bounce-back season for the Buckeyes in 2016-17.
Ohio State returns all five starters and its six top scorers from a team that was 21-14 overall and 11-7 in the Big Ten last year.
Senior forward Marc Loving leads four returners who averaged double-digits with a team-best 14.0 points per game and junior forward Keita Bates-Diop was second on the team with 11.8 points per game and 6.4 rebounds.
Junior forward Jae'Sean Tate averaged 11.7 points and 6.4 rebounds, while sophomore guard JaQuan Lyle averaged 11.2 points and 4.2 assists.
Junior guard Kam Williams scored 8.3 points per game while shooting 44 percent on 3-pointers and junior center Trevor Thompson averaged 6.5 points and 5.1 rebounds.