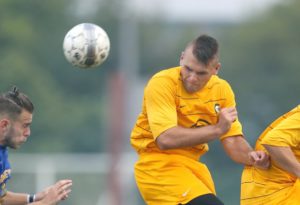 By PAUL GOTHAM
ROCHESTER, N.Y. — Frustration from previous failures paid dividends Wednesday for the Monroe Community College men's soccer team.
Niko Nitti tallied twice as the MCC Tribunes came from behind to defeat Jamestown Community College, 3-1 in NJCAA action on John L. DiMarco Field, Wednesday afternoon.
Nitti's header tied the score in the 34th minute, and the sophomore forward added an insurance goal midway through the second half.
"Over the weekend he missed an awful lot of chances," head coach Nelson Cupello said referring to Monroe's 5-1 loss to Harcum College. "He hung his head a little bit. We told him 'you're going to get those chances.' But in a big game you may only get one chance, and you got to put it away. Today he put away two good goals. Hopefully, he can keep going."
Nitti redirected a Julian MacDonald free kick from 29 yards out to get the Tribunes on the board.
"It was beautiful," Nitti said of his teammate's pass. "We have worked on that obviously. Coach told me to get on opposite side on the free kicks. It worked. We produced."
"The guys on the bench were yelling out that the keeper wasn't coming off his line too much, so they told me to it in the pocket right on top of the six," MacDonald explained. "I listened to them. Guys on the bench are obviously doing their job watching the game. It worked out well."
Cupello made a halftime adjustment moving Ryan Gray from defense to midfield, and the freshman took advantage giving a diagonal pass that led Nitti through the Jayhawks back line.

"Ryan has been a pleasant surprise for us," Cupello added. "We thought we try him as a right back in the first half because he likes to go forward. He plays hard. We wanted to see if he can give us that sort of fight in the midfield. He really helped us in the second half. I see him playing there quite a bit."
It was Nitti's team-leading fourth goal of the season.
"It bothered me a little bit," Nitti said of his missed opportunities over the weekend. "I just felt very calm on the ball today, and it helped me produce."
"He's a big kid," Cupello said of Nitti. "He's a wide body. He plays hard all the time."
Lucas Egan netted the game winner. MacDonald supplied another cross from the right side and Egan's header gave Monroe an advantage it would not surrender.
It was MacDonald's third assist of the season.
"It's definitely a good feeling to get those assists," MacDonald noted.  "The game was a little bit slow. That goal they got on us was a little bit weak. We came back. We knew what we had to do."
Jackson Rybicki spotted Jamestown an early lead when he connected on a free kick from 30 yards out.
"If we don't commit a foul 30 yards that doesn't happen," Cupello stated. "They were told that. Regardless of who's in goal, we don't want to give up fouls on the defensive third of the field. Hopefully we learn from it. The second half we played much better."
Monroe finished with 11 shots on net to three for JCC.
The Tribunes were whistled for 14 offsides.
MCC improved to 4-3-1.
Jamestown CC falls to 1-8-2.
Monroe travels to play at Community College of Rhode Island for its next match. A 2 p.m. kickoff is scheduled this Saturday. The Tribunes return home Wednesday, October 5th to play Bryant and Stratton for a 4 p.m. start.