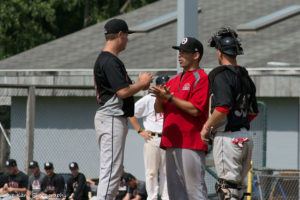 OLEAN, N.Y. — Olean Oilers team owners Brian Jr. and Rene O'Connell along with Director of Operations Matthew Fidurko announced Saturday that manager Bobby Bell has accepted the same position with the Keene Swamp Bats of the New England Collegiate Baseball League.
During his five-season tenure as Oilers' manager, Bell guided the organization to back-to-back New York Collegiate Baseball League championships including 128 career wins, good enough for sixth all-time in the NYCBL.
"This was a tough decision for me but something that I had to do to further my career," Bell reinforced. "I cannot thank Brian and Rene enough for the opportunity they gave me five years ago."
"I would like to congratulate Bobby on his new position and wish him continued success," Brian O'Connell Jr. said. "Bobby and I started this team together five years ago with little to no experience just with a passion for the game."
This past season, Bell led the Oilers to a 39-win regular season, including an NYCBL record 24 wins in a row (May 31st – June 25th). Along with recruiting a NYCBL record 12 all-stars, Bell was able to guide Cole Peterson (St. Bonaventure) to his second-straight defensive player of the year award along with Aaron Phillips (St. Bonaventure) taking home both the league's player and pitcher of the year award.
"It has been a fun ride," Bell added. "Seeing this organization grow the way it has since the beginning is truly something extraordinary. I look forward to this new opportunity but will also continue to reflect on the all the memories in Olean."
The two-time NYCBL Manager of the Year, Bell, has seen one player drafted during his tenure: Jon Kemmer, a 21st round pick by the Houston Astros in 2013. However, with the recent talent the Oilers have had more are expected in the next couple of years.
"With Bobby's unique ability to recruit and coach talented players from across the country we have built this organization into the premier franchise of the league and one of the top summer collegiate baseball programs in the country," said O'Connell.
The Keene Swamp Bats are located in Keene, New Hampshire. Last season, the Swamp Bats finished with a record of 20-26, fifth in the league's northern division. Keene's 2017 roster is already made up of players from renowned programs such as the University of Virginia, University of Georgia, and West Virginia University.
"We cannot thank Bobby enough for what he has done for the Olean Oilers. His work ethic and dedication to more than his duties has helped inspire the Oilers current run of success," said Fidurko. "He is one of the three pillars in which this organization was built on."
"We wish him well and he will always have a home in Olean with the Oilers," added O'Connell.
Bell will continue his duties as an assistant coach at John Carroll University. John Dry will remain on the Oilers coaching staff heading into the 2017 season.
A nationwide coaching search will begin immediately.