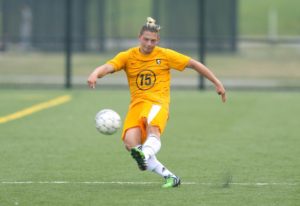 By PAUL GOTHAM
ROCHESTER, N.Y. — Julian MacDonald connected from 25 yards out, and the Monroe Community College men's soccer team won its 2016 home opener, 7-1 over St. John Fisher College JV at John L. DiMarco Field Wednesday afternoon.
MacDonald took a pass from teammate Niko Nitti and broke open a 1-1 game with a blast that caught the underside of the cross bar.
"I really did not think that was go in like that – bar down," the sophomore midfielder said. "Ball does some wonders like that. It was a good hit, though, definitely. I'm happy about it."
Nitti led MacDonald into the left flank with a ball from center of the pitch.
"That was beautiful," Nitti said of the goal. "I saw him over there with the open switch, so I just gave it to him."
"I think that broke their back," Monroe coach Nelson Cupello said. "That was a great shot. That's the type of thing we need. We hit I think three posts in the first half that didn't go in. Julian's hit the cross bar and dropped in. Then the floodgates opened."
The duo took advantage of a quick restart and struck again nearly 15 minutes later. This time Nitti found the net.

MacDonald alertly grabbed the ball after a whistle and set the play in motion.
"When the foul came, we just got eye to eye," Nitti said. "He just kept calling my name 'Niko, Niko, Niko.' In practice we tried it a couple times. It's worked. It carried over from practice perfectly."
The Tribs tallied twice more over the next eight minutes.
"We were creating chances" Cupello said of the Tribunes play in the first half. "They just weren't going in. The guys kept their confidence and kept their concentration and things started happening for us."
St. John Fisher JV scored on a set piece in the game's third minute. From there, the Tribs possessed the ball for most of the first half out-shooting the JV Cardinals 17-1 through the first 45 minutes of play and 38-1 for the match.
"That's what we strive for," Cupello explained. "Everything's got to be possession. We've got it. They don't. They can't score. You've got to be patient. Things happen when you're patient and do your job."
Samuel Jiggins got the black and gold on the board when he cleaned up a loose ball in the box. Jiggins later made it a 4-1 game when he one-timed Adrian Minott's cross from the left side.
Monroe improved to 1-1-1 with the win. After falling 5-0 to Broward College over the weekend, Wednesday's effort was important with a match against Massasoit Community College on the horizon.
"Definitely felt good," MacDonald noted. "Two rough games this past weekend in Florida. Good to score some goals like that. Give the guys some confidence."
"We just haven't been able to capitalize," Cupello said.  "We finally put some things together and got some goals. It builds some confidence for these guys going into a big game this Saturday."
Matthew Englert scored twice in the final 20. Ahmed Eissa closed the scoring.
Monroe hosts Masssasoit on Saturday for a 1 p.m. start on DiMarco Field.