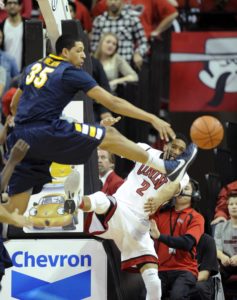 Courtesy of GoGriffs.com
Former Canisius men's basketball player Jordan Heath signed a professional contract to join Monthey in the Swiss LNA League on Friday. Entering his third professional season overseas, Heath joins Monthey after playing the two previous years in Belgium.
Last season, the Rochester, New York native played 26 games for Spirou, where he was a teammate with former Canisius player Billy Baron. Heath averaged 8.4 points and 4.8 rebounds per game for Spirou in 2015-16 and helped that team to the second-best record in the Belgian Scooore League. He also played seven games in Eurocup, where he was good for 5.6 points and 2.7 boards per contest.
Prior to signing with Spirou, Heath spent the 2014-15 campaign with Kangoeroes in the Scooore League. In his first 26 professional games, he posted 15.2 points, 6.5 rebounds, 1.1 steals and a block per game. For those efforts, he was named to the Eurobasket.com All-Belgian League Honorable Mention list.
A two-year starter for Canisius, Heath sat out the 2011-12 season after transferring from Roberts Wesleyan College near Rochester, N.Y. For his career with the Griffs, Heath averaged 9.9 points, 5.7 rebounds and 1.9 blocks per game while shooting 53.3 percent from the field and 39.7 percent from 3-point range. The 6-foot-10, 240-pounder ranked third on the Canisius roster with his 10.5 points per game in 2013-14 and his 5.5 boards per contest ranked second on the team and 16th in the MAAC. He scored in double figures 18 times in his senior year, highlighted by his career-high 28-point effort in a win over Saint Peter's Dec. 6, 2013. He also pulled down a career-high 12 rebounds for the Blue and Gold in the team's 85-83 win at Iona Jan. 17.
Heath closed out the 2013-14 season ranked third in the MAAC and 55th in the nation with his 2.1 blocks per game. He had at least one blocked shot in 30 of the team's 34 contests in 2013-14 and his 72 blocks that year ranks fourth-best on the school's single-season chart. He set the school's single-game blocked shot record Jan. 10, 2014, when he recorded nine blocks in the Griffs' 94-91 double-overtime win against Rider.
After graduating from Canisius in May 2014, Heath joined the Detroit Pistons in the NBA Summer League in Orlando. Heath is one of 18 former Griffs to sign a professional contract to play basketball overseas since 2006.