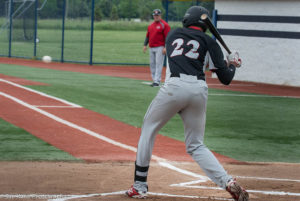 By MIKAEL DeSANTO
All Star Game starter. Western Division champion. Playoff champion. Pitcher of the Year. These are the titles associated with Aaron Phillips (St. Bonaventure University) of the Olean Oilers and his 2016 season. Add one more to add to that collection: New York Collegiate Baseball League Player of the Year.
"It's definitely a turnaround for me, last year was a work in progress and playing every day this year definitely helps," Phillips said. "These guys put me in a good situation to do well, it starts at the top, our owners are great, Sean O'Connell, the director of the baseball operations, Coach (Bobby) Bell, Bobby's been great. I was talking to a few of the teammates we had on the squad this year. We didn't know if we were going to come back and try to do it all again, and the coaching staff is a huge reason why we all decided to come back to Olean."
The Cheektowaga, New York, native hit .395 with five home runs, 17 doubles, 54 runs batted in, 18 walks and 11 stolen bases in 45 games. Up from his 2015 season, when he hit .231 with no home runs, three doubles and eight RBI in 33 games. Phillips also hit .316 with a double, a triple and eight RBI during this year's playoffs.
A product of Cleveland Hills High School, Phillips said he made adjustments to the way he hits, which has led to more success.
"Definitely a lot of credit to the coaches I've worked with, just having an approach down and becoming a player that I thought I could be, but wasn't sure after last year," Phillips said. "I changed my entire stance. I used to be open, my bat used to be laid down. Now I'm a little more straight up and down. I've got a little more of a leg kick, which people think is for power, but it's obviously all for timing. I know what I'm looking for. I know where I'm trying to hit the ball, stay middle away and beat them inside if they go there."
Bell echoed Phillip's words on his improvement at the plate and also praised his versatility.
"Aaron made a lot of adjustments compared to last year. He worked a ton in the off-season and throughout his school season, so for him to come back and hit the way he did this summer just shows how much hard work and determination he puts into the game," Bell said. "Aaron's an all-around player, he's just a pure athlete, so one thing with use with Aaron is his ability to play all over the place. This year he played first, second and outfield for us when he was off the mound. It helps a lot when you're rotating guys. It also helps us out when we want to get better defensively, so just an all-around athlete and pure competitive nature helps us and makes him the player he is."
Phillips abilities and drive made him a huge part of the Oilers run to the 2016 title, according to Bell.
"Aaron is definitely one of our top players," Bell said. "He shows up every day, whether it's practice, games or us fooling around somewhere to get some extra work in."
Phillips said he has specific goals when it comes to continuing to improve during the upcoming school year, but that his eye is on one prize.
"This year, hopefully, I'll be in the middle of the lineup at St. Bonaventure," Phillips said. "Honestly I love keeping my strike outs down, on-base percentage is a huge statistic for me, that's pushed by our coach, Larry Sudbrook, a lot. It's tough to set number goals because it's about winning a championship, trying to get back to the top of the A10, so as a hitter I'm just looking to do everything I can in the box to help my team accomplish that."
Phillips struck out 28 times through two years at school, and holds a .321 career on-base percentage.
On the mound, Phillips finished 6-1 with a league-leading 1.92 earned-run average. He said that between pitching and hitting at school, there is no preference, and that he plans to keep it simple.
"It's a balance for sure, a lot of people ask 'how much time do you put into each?' or 'which one do you like more?'," Phillips said. "I just try to go out and play. I think the biggest part of it is not putting too much pressure, not over-training and working so hard on trying to be perfect at both that when you get to the game you're just mentally and physically run down."
Bell talked about the future for Phillips in the field and at the plate, saying that he will enjoy watching how his talent develops.
"He's just so natural and there's just so much raw power out of him. It will be exciting to see where he goes in the future and how things pan out for him," Bell said. "He's definitely a player I'll never forget, and I'm glad he was on our team these last two years, I can't really quote or comment too much on what I expect out of him because I know how much he works and how hard he works, so it will really be exciting to see what does come of it."
Phillips claimed 14 first-place votes while Wellsville's Harry Montero, Jr. (Bloomfield) received five top nods. Shannon Baker (Syracuse Salt Cats/IPFW) and Derek Martin (Cortland/Southeastern) both received one first-place vote.
2016 Player of the Year (first-place votes in parentheses)
Aaron Phillips (14) 259
Harry Montero Jr. (5) 195
Ryan Coulon (Sherrill/St. Thomas Aquinas) 97
Derek Martin (1) 96
David Yanni (Olean/University of Pittsburgh) 85
Others receiving votes: David Murphy (Cortland/UMass-Boston), Ethan Luna (Rochester/Southwestern University), Anthony Galanoudis (Syracuse Salt Cats/Molloy), Shannon Baker, John Ricotta (Hornell/Monroe CC), Alex Griffith (Olean/University of Pittsburgh), Webb Little (Syracuse Jr. Chiefs/Ithaca College), Cole Peterson (Olean/St. Bonaventure), Max Franzone (Wellsville/Dominican), Marc DiLeo (Rome/Mercyhurst), Skylar Mercado (Sherrill/USC-Aiken), Mike Wick (Hornell/Webster University), Jacob Sims (Wellsville/Roane State CC), Jacob Means (Wellsville/Cowley County County CC), Mark McKenna (Genesee/Canisius), Anthony Seminaris (Syracuse Jr. Chiefs/Mt. San Antonio Coll), Nicholas Roy (Syracuse Jr. Chiefs/Nichols Coll).