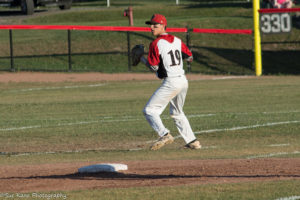 By JONATHAN SAWYER
With a sure glove and plus arm, Cole Peterson (St. Bonaventure) garnered New York Collegiate Baseball League Defensive Player of the Year for the second straight season.
Peterson's stats don't lie. Accounting for 79 put outs and 131 assists while committing just nine errors over 46 games, he finished with a fielding percentage of .959. Peterson anchored a defense which set league marks with 24 consecutive wins and 39 regular season victories overall.
Oilers head coach Bobby Bell attributed Peterson's defensive prowess to his work ethic.
"It's not a switch that gets turned on and off with that kid." Bell said. "It doesn't matter if we're practicing, we're playing a game if we're just fooling around, he is 100 percent all in all the time. He has that mentality at all times."
Peterson knows the value of earning the award in consecutive seasons.
"It means a lot to earn that back-to-back years," he said. "With all the talent that has been in the league last year and this year, to win it over everyone is an honor."
He credited this award with hard work and always putting in the effort.
VIEW MORE SUE KANE PHOTOS HERE.
"Defense is a big part of my game," Peterson stated. "It is one of my strong points. I go 110 percent every time I'm on the field and even during practice and everything paid off."
Playing next to Peterson for the past two summers, Oilers third baseman David Hollins (St. Petersburg College) gained a deeper appreciation for his teammate.
"People don't understand how hard the plays are that he's making because he makes them look so easy." Hollins said. "He's got unbelievable hands and feet. His arm is unbelievable. He's got that mindset that 'I'm the best shortstop out here,' and it's true."
Peterson was part of four double plays turned by the Oilers infield during championship series. He credited the exceptional infield defense to "good chemistry."
"David Yanni and myself up the middle this year, took us a few games to get chemistry but once we got it down it was pretty good," Peterson said. "With Hollins and myself on the left side, we played together last year so we know each other, and he got to work with Yanni and it all just clicked."
Peterson received 10 first-place votes. Cortland Crush teammates David Murphy (UMass-Boston) and Derek Martin received three first-place votes and one respectively. Syracuse Salt Cat Adam Thoryk (Alma) grabbed two top votes.
Peterson's teammate, Alex Griffith (Pittsburgh) also earned a first place nod as did Syracuse Salt Cats Shannon Baker (IPFW) and Christian Sanchez (Ave Maria). Genesee's Mark McKenna (Canisius) and Rome's Sergio Osorio (Concordia) rounded out the first-place votes with one apiece.
Peterson earned Championship Series Most Valuable Player honors. Hollins received Championship Series Defensive MVP.
2016 Defensive Player of the Year
Cole Peterson (10) 82 points
David Murphy (3) 50
Derek Martin (1) 24
Alex Griffith (1) 24
Adam Fitzgibbon (Hornell/Saginaw Valley St.) 22
Christian Sanchez (1) 22
Adam Thoryk (2) 21
Others receiving votes: Shannon Baker, Devin Cerrato (Rochester/Covenant), Sergio Osorio, Mike McNicholl (Wellsville/Eastern New Mexico), Tyler Culpepper (Wellsville/Roane State CC), Judah Wollenburg (Genesee/U of Rio Grande), Mark McKenna and Jacob Means (Wellsville/Cowley County CC).