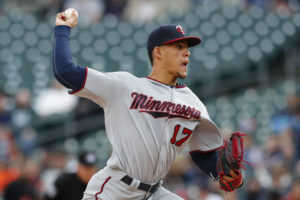 Courtesy of RedWingsBaseball.com
Jose Berrios struck out a season-high 11 batters, leading the Red Wings to a 6-2 win over the Buffalo Bisons Monday night at Frontier Field. The win gave the first place Wings a 1.5 game lead over the second place Bisons.
Berrios had lost his previous two starts coming into Monday, both against Indianapolis. Dalton Pompey led off Monday's game with a base hit, extending his hitting streak to eight games. Berrios got a strikeout, followed by a double play, to quickly end the Bisons' first turn at the plate.
Buffalo started Drew Hutchinson on the mound, who had allowed just eight hits over his last three starts (20 innings). The Wings' Jorge Polanco lined a two-out single in the bottom of the first, but Hutchinson struck out Kennys Vargas for the third out of the inning.
Eddie Rosario led off the bottom of the second with a single, stole a base and advanced to third on a single by Wilfredo Tovar. Adam Brett Walker's sacrifice fly to left-center field scored Rosario for the first run of the game. Tovar advanced to third on a Hutchinson balk, but John Ryan Murphy struck out to end the inning.
The Wings scored two more runs in the third to make it a 3-0 lead. They led off the inning with three straight hits. James Beresford singled, then Logan Schafer hit a ground rule double to right. Polanco singled to knock in Beresford and Rosario hit a sacrifice fly to center two batters later to score Schafer.
Berrios combined for just seven strikeouts in his two previous starts, but needed just four innings to reach that mark on Monday. Pompey's leadoff single was the only hit surrendered over that span.
Walker reached second base on a throwing error by third baseman Andy Burns to start the fourth, and Murphy drove him in with a single to right-center to extend the lead to 4-0.
Berrios had set down 11 straight batters heading into the fifth inning, when Casey Kotchman homered to right and made it a 4-1 game. Berrios got three quick groundball outs after Kotchman's homer, and had thrown 51 pitches – 39 for strikes – after five innings.
After Hutchinson struck out Rosario and Tommy Field for the first two outs of the fifth, Tovar hit a triple that rolled to the right field warning track. The Wings could not cash in, however, as Walker was called out on strikes on a full count to end the frame.
Hutchinson was relieved by Chad Jenkins after the fifth inning. Three of the four runs he surrendered were earned, while he also allowed nine hits and registered seven strikeouts to just one walk. He threw 98 pitches – 61 for strikes – and was also called for a balk.
After Jenkins retired the first two batters he faced, Schafer hit a two-out home run into the right field bullpen to give Rochester a 5-1 advantage. It was Schafer's second home run in four games since joining the Wings on June 2.
Kotchman cut the Wings' lead to 5-2 with his second solo shot of the night in the top of the seventh.
Bo Schultz took over on the mound in the bottom of the seventh, and Field greeted him with a double. Schultz struck out the next two batters, and that's when Murphy delivered another RBI hit – a double to center, to put the Wings ahead 6-2.
Berrios had thrown 81 pitches when he took the mound in the top of the eighth inning, and it marked the first time he has worked into the eighth inning this season. He struck out Junior Lake for strikeout number 10, another season-high for Berrios. Former Wing Alexi Casilla was strikeout victim number 11, and a groundout back to the mound ended the Bisons' turn in the eighth.
Berrios posted a stellar worksheet: eight innings, three hits and two earned runs with a walk and 11 strikeouts. J. T. Chargois took the mound to open the ninth, and retired all three batters he faced.
The Wings out-hit Buffalo 12-3, with Shafer, Polanco, and Murphy posting multi-hit games.
NOTES: John Ryan Murphy had his first two-hit game of the season…Eddie Rosario was named the Batavia Downs Gaming and Racetrack Player of the Week, click here for the story……..Class A Fort Myers LHP Tyler Jay, one of the top pitching prospects in the Twins organization, was named the Florida State League Player of the Week for May 30-June 5. Click here for the details……Voting is underway for the Triple-A All-Star Game in July, click here to find out how to vote for your favorite Red Wings players.
6/7 vs. BUF 7:05pm LHP Logan Darnell (5-5, 3.58) vs. LHP Scott Diamond (3-5, 3.16)
6/8 @ BUF 7:05pm LHP Tommy Milone (3-0, 2.08) vs. LHP Wade LeBlanc (5-1, 1.55)
6/9 @ BUF 1:05pm LHP Andrew Albers (4-1, 3.30) vs. RHP Roberto Hernandez (2-2, 4.32)
The series with Buffalo continues Tuesday night at 7:05 p.m., another Fan 4-Pack Night with four tickets, hot dogs, drinks and a yearbook for $36 ($40 day of game).