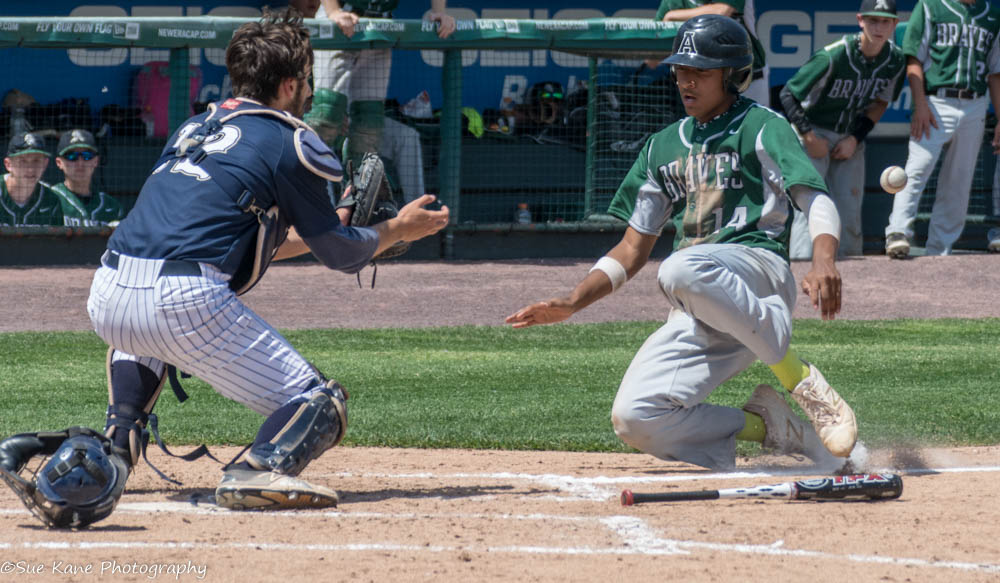 By PAUL GOTHAM
ROCHESTER, N.Y. — The Avon Braves have lived on the edge throughout the post-season. What's one more game.
Brandon Gingher scattered eight hits, and Avon defeated the Frewsburg Bears (VI), 3-0 in the New York State Class C Far West Regional at Frontier Field, Saturday afternoon.
Gingher worked out of a pair of early-inning jams and escaped a bases-loaded spot in the sixth.
"The kid is like ice man out there," ninth-year coach Rob Fries said. "He just doesn't get rattled. The game slows down for him. He relaxes."
Gingher allowed a pair of two-out opposite field hits in the first inning but stranded runners on the corners with one of his seven punch outs for the day. The Bears put together two more singles in the second with two down, but the threat ended when a runner missed second base advancing from first to third.
The right-hander settled in from there and allowed just one hit over the next three frames.
"I don't throw that hard. I know I don't," Gingher said.  "But they were still behind my pitches which was nice. I could put my fastball right by them."
Gingher displayed his finest sleight of hand in the sixth inning.
Frewsburg's Matt Hair reached on an error to start the stanza. One out later, Caleb Caldwell singled to centerfield, and Trent Gray loaded the bases with a two-out base hit. Reid Bjork came to the plate with base hits in his previous at bats.
It appeared Gingher would get out of the situation when Bjork popped up in foul territory, but the senior hurler dropped the ball.
VIEW MORE SUE KANE PHOTOS HERE.
He returned to the mound and induced a routine fly ball to end the inning.
"He drops that little pop up over there," Fries stated. "He doesn't panic. He comes back out and makes a good pitch. I trust him immensely."
The effort was the third complete game for Gingher in the last eight days. He pitched out of a bases-loaded situation in the seventh inning against Bolivar-Richburg in Tuesday's state qualifier.
"I didn't know what he'd have in the tank," Fries acknowledged.  "He did (have something in the tank). He pitched really well again."
Avon got all the runs it needed in the fourth inning.
Aaron Ghent drilled a one-out double to left field, and Gingher brought home the game's first run when he beat Gray in right field for another two-bagger. Brendan Coyne put runners on the corners with a bloop single, and John Ceneviva made it a 2-0 game with a sacrifice fly.
Avon added an insurance run in the sixth. Ghent led with a base hit. Gingher beat out a sacrifice bunt, and Ghent took third on an error. Coyne brought home Ghent with a safety squeeze bunt.
"We're good at pitching and playing defense," Fries explained. "We usually have trouble hitting. We play a little small ball. We bunt well, run well… That's kinda what we're good at. We trust our pitchers and our defense."
Avon trailed by three before defeating Pembroke 11-5 in the sectional opener. The Braves followed that with back-to-back 2-1 wins over Alexander and Sodus to claim's the program's first sectional title.
"We know it's going to be a close game," Fries said.  "We don't tear the cover off the ball, so we know it's going to be close. We trust to make the little plays better than the other team does.
"We don't panic. We just focus on making the next play. You can get out of the situation if you don't worry about it."
Avon will now make its first trip to the state semi-finals next weekend. The Braves will play Greenwich (II) next Saturday at Conlon Field in Binghamton. A 1 p.m. first pitch is scheduled.
"It feels great," Gingher said. "All year we say we're playing for Binghamton. Sometimes we joke, but now it's serious. Now we got this far. It's no longer something we're dreaming about. It feels good. Our team deserves it. We worked hard all year."