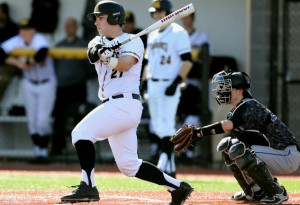 By PAUL GOTHAM
ENID, OK — Sinclair Community College put crooked numbers on the board in back-to-back innings, and Monroe Community College never recovered as the Tribunes fell 9-2 in their opening game of the 2016 NJCAA Division II World Series at David Allen Memorial Park, Sunday afternoon.
Ben Myers scored runs in the second and third stanzas, and Sinclair took a 4-1 advantage they would never surrender.
Trailing 1-0, Myers led the second with a walk. A stolen base later, Brody Basilone delivered with an RBI single through the right side. Sinclair took the lead when Basilone scored on an error.
Myers drove in a run as Sinclair extended its advantage to 4-1 in the third.  He connected on a solo shot in the eighth inning and finished the day 2-for-4 with three RBI and two runs scored.
Alex Anders pitched four innings for the win. The left-hander struck out five and walked five.
Monroe left 14 runners on base including eight in scoring position in the loss. The Tribunes loaded the bases in the third and eighth innings and came away empty-handed.
Johnny Ricotta (Greece Athena) staked Monroe to a 1-0 in the second inning. The Tribune first baseman drilled a solo shot over the 20 foot high batter's eye in dead center 390 feet from home.
Monroe looked ready to add to its total in the third when Mike Pringle (Pittsford-Sutherland) and Matt Brooks (Auburn) reached on a back-to-back walks. Alex Saville (Vernon-Verona-Sherrill) moved the runners with a sacrifice bunt, and Ricotta loaded the bases with a two-out base on balls. Anders got out of the inning with a punch out.
Monroe put two runners on in the fourth and fifth innings without capitalizing.
Luke Brust (Honeoye Falls-Lima) led the sixth with a single through the left side. After a wild pitch, "Bubba" Boutelle moved the runner with a ground ball to the right side of the infield. Pringle drove in the run with a ground ball.
Monroe trailed 4-2.
Nick Massey singled and scored, and Chad Roberts drove in another run with an RBI sacrifice fly as Sinclair responded with two runs in the bottom of the inning.
Ricotta finished 2-for-3 with two walks.
Pringle walked three times.
Sinclair's Tyler Cowles and Daniel O'Keefe both finished 2-for-4.
Monroe will play its next game on Tuesday against the loser of the Mercer County versus Western Oklahoma State contest. Mercer County (48-8) is the Northeast District representative. Western Oklahoma (46-16) represents the Plains District. Game time is TBA.