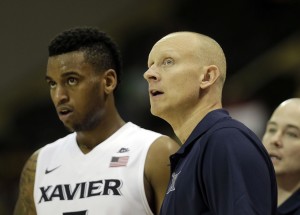 Courtesy of GoXavier.com
CINCINNATI — Xavier University guard Trevon Bluiett, who recently completed his sophomore year, announced today that he is withdrawing his name from the upcoming NBA Draft and will return to Xavier.
"The NBA Pre-Draft process has been a great experience for me," said Bluiett. "After sitting down with my family and coaches, I've decided to return to Xavier. The NBA will remain an important future goal, but for now my focus is on continuing my education and leading Xavier's Team 95 to another special season."
Bluiett, a 2015-16 USA TODAY Third-Team All-America and 2015-16 First Team All-BIG EAST Conference selection, led Xavier in scoring at 15.1 ppg. (ninth in the BIG EAST), 3-point field goals made (fourth in the BIG EAST at 2.3 mpg.) and 3-point percentage (fifth in BIG EAST at .398). He also led the team in double-figure scoring games (31) and times as team's leading scorer (16). He was third on the team in rebounding at 6.1 rpg. (15th in the BIG EAST) and is tops among Xavier returnees fro the 2016-17 season.
Xavier finished 28-6 overall this past season with a school-record No. 9 final AP Poll ranking and made its 10th NCAA Tournament appearance in 11 years.